By Danielle Robinson
Have you ever read something online that contained a word that you didn't quite know the meaning of? Or maybe you've heard a friend use a term that seemed completely out of context. Well, you're not alone in your confusion. Urbandictionary.com is a crowdsourced website created to give meaning to slang terminology, usually stemming from cultural and social commentary.
What began as merely a parody website of Dictionary.com now gets 180 million monthly page views and is the 23rd most popular website in the country, according to the web analytics listed on the site's advertising page.
The site was created in 1999 by Aaron Peckham, a freshman at California Polytechnic State University. Today no one is more astonished at the site's growth than Peckham, who said that he and his friends had made Urban Dictionary in jest for words that they made up when joking around.
Now Peckham continues to manage the website from his laptop with no actual faculty and no reliable revenue source. Instead of having users pay a fee to use the website, Peckham makes money through advertising. He collaborates with different companies to sell items such as hats, buttons and T-shirts.
Sometimes the ads can be distracting, seeing as they tend to be randomly dispersed across the webpage, but this inconvenience can be attributed to the site having no editors or moderators. That allows virtually anyone to create definitions and share opinions. Viewers can like or dislike those definitions and opinions, according to how relatable or popular they find them to be.
Because Urban Dictionary does not have anyone policing the definitions, many of them begin or end in profanity. As St. John's Law Review stated, most of the words in this dictionary are only applicable to a small subset of individuals. "Urban Dictionary should be relied on to define the popular or common meaning of slang terms, not industry or technical terms that will not benefit from a group up or down consensus voting system," the review found.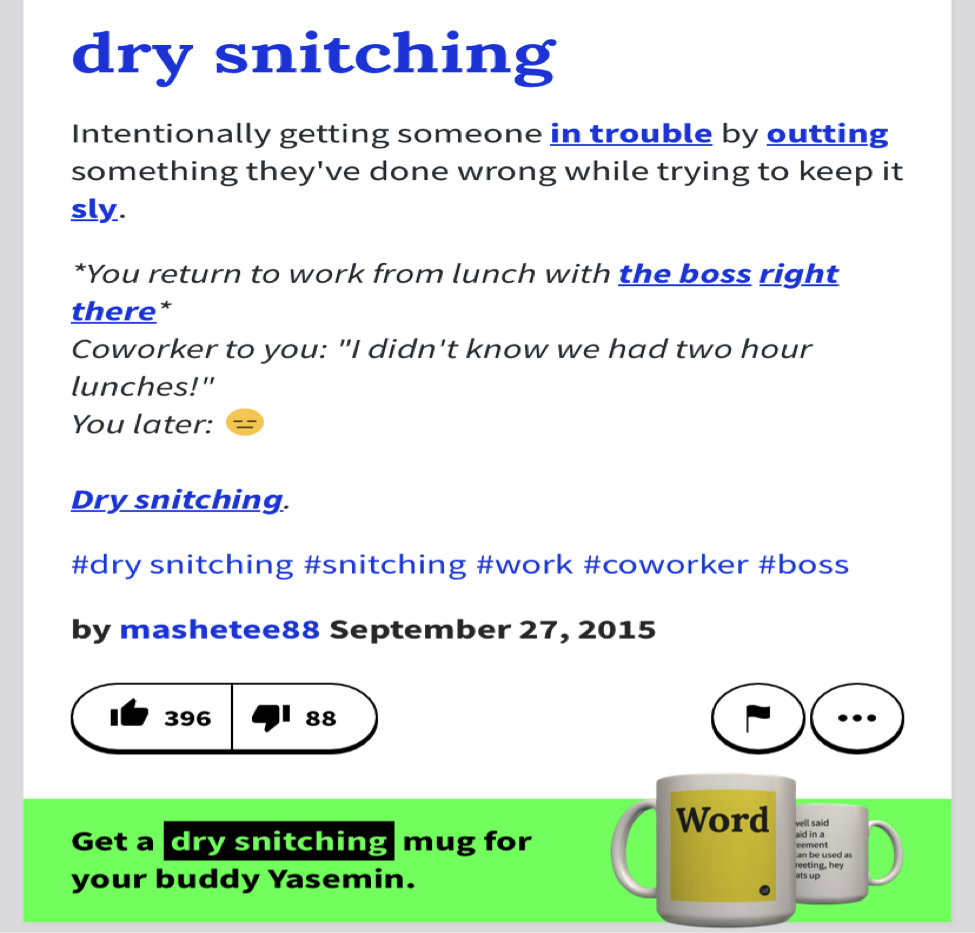 Despite its humble beginnings, Urban Dictionary has made quite a name for itself and continues to grow, with new entries every day. Although the site should not be used as a primary source in research, it sure proves itself reliable in everyday usage. In a 2010 interview with blogger Terry Heaton, Peckham was asked whether Web users speak a separate language. Peckham replied, "I think technology and the Internet has accelerated the evolution of language… On Urban Dictionary, 2,000 definitions are submitted each day, and many are published on the site within 24 hours."
Though millions use Urban Dictionary and some would argue that it is an important contribution to society, the site's lack of quality control results in too many irregularities to actually consider it a reputable source.