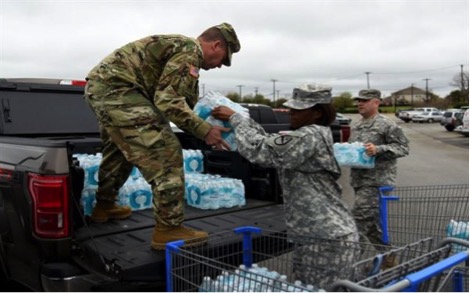 By T'Keyah Hayes
"Flint pays the highest rate of water in the entire United States," First Trinity Missionary Baptist Church first lady Catrina Tillman told a group of students in April as she discussed the severity of the crisis in Flint. As Flint enters its fifth year in the water crisis, many residents continue to face issues with having a consistent source of clean water; however, residents are left to pay frequent high water bills–some of the highest in the country.
Flint's water crisis began in 2014 as a result of the city's drinking water source changing from Lake Huron and the Detroit River to Flint River. The mistreatment of water in the Flint River exposed over 100,000 residents to unusually high lead levels.
The elevation of lead levels in Flint's water has been linked to a spike in cases of Legionnaires' disease, a waterborne disease that attacks the nervous system. Former Governor Rick Snyder announced that 87 cases were reported in Genesee County within the years of 2014 and 2015. Since then, 12 people have died from Legionnaires' disease.
A federal state of emergency was announced in January 2016, advising Flint residents to use only bottled or filtered water for drinking, bathing, cooking and cleaning.
Some officials have announced that the water has returned to acceptable levels. The city of Flint's Mayor Karen Weaver said the city is making progress in its efforts to alleviate the crisis. She predicts that all of the city's pipes will be replaced by the end of summer as they began undergoing construction.
While the city is working toward progress, Weaver is reluctant about clearing her constituents to drink water from the faucet again.
"We're almost done changing the pipes in the city of Flint," said Weaver. "Our concerns are while we continue to do construction, we have the potential for lead to still get in the water."
The crisis has placed a financial strain on many residents. In addition to having to pay for bottled water and water filters, Flint residents have also paid outstanding water bills.
A study conducted by the public interest group Food and Water Watch found that Flint paid the highest water bill in the United States in 2015, averaging $910.05 per household. According to one of the study's authors, Mary Grant, Flint's water rates exceeds the affordability rate designated by the United Nations. Grant also points out that the United Nations recommends that water and sewer services should not exceed 3% of a household's income; meanwhile, Flint residents pay 7%.
As a result of these high water rates, many people are stuck in Flint and unable to move unless their water bills are paid off.
"People who want to move cannot move unless they zero out their water bills. They're stuck even if they're renters," First Trinity Missionary Baptist Church Pastor Ezra Tillman Jr. said. "I got a member and someone broke into her house three times. She can't move because she got hundreds of dollars she owes."
First Trinity Missionary Baptist Church has been a place of refuge for many residents, fighting at the forefront of the crisis. After collaborating with Jada Pinkett-Smith and Jaden Smith to bring a water filtration system to residents, the church has been able to spark change in their communities independently by providing clean, drinkable water. In addition to celebrity contributions, Nestlé Waters North America will provide free bottled water to Flint residents up to August 2019.
The Tillmans are working diligently to spread the word about the crisis while being support systems to Flint residents. "It's still a continuous scandal behind where the Flint water crisis really is at as it pertains to our lives," Catrina Tillman said. "But no one picks up the story locally, so it doesn't get out nationally."
Residents of Flint manage to keep their head high in spite of crisis. With the developments of a second Water Box filtration system for residents and the mayor's plans set in place, many remain hopeful that financial, emotional and tangible change will come to the city. In the words of Mayor Weaver, "We are moving from crisis to recovery."