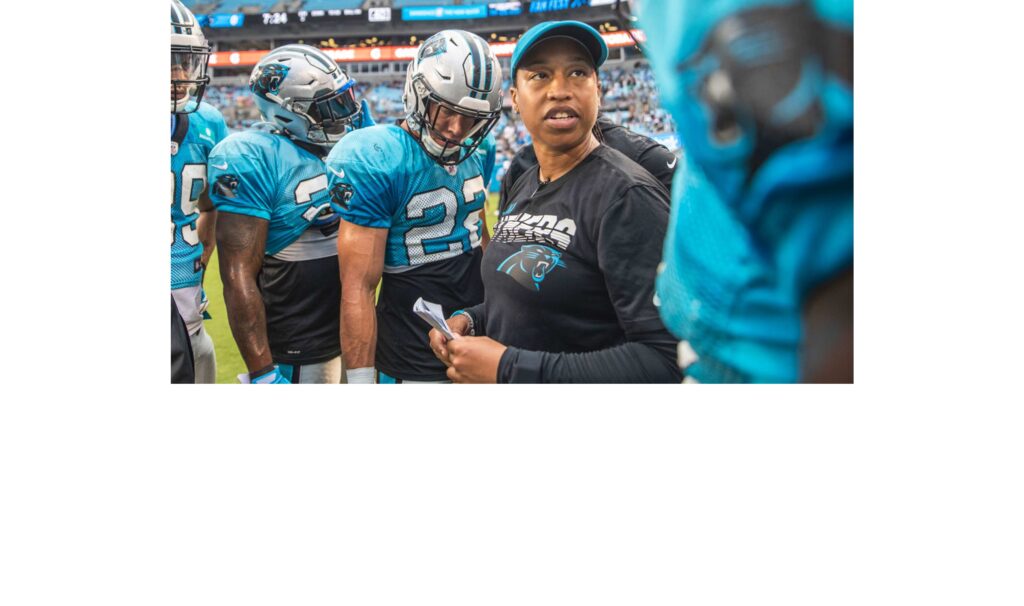 By Monét Bowen
The Washington Football team ended its season boasting about its victories in matters of top-tier diversity, ways that it had jumped ahead of other teams in the NFL, where 70 percent of the players are Black, but a vast majority of the head coaches and front-office executives are not.
The team announced that the first Black woman to be a full-time assistant NFL coach would be on Washington's staff. The first Black man to be an NFL team president would be in Washington's front office. And he would be working with the team's first Black general manager, who, as a player, was in its uniform the last time the team won the Super Bowl.
"Washington, of all franchises—Neanderthal for so long on so many fronts—is actually now a leader…showing the league what's possible when you welcome all perspectives," sports columnist Barry Svrluga penned in The Washington Post.
Yet by March, which was Women's History month, the initial excitement of the team's ground-breaking appointment of Jennifer King as a full-time assistant coach had died down, replaced by news stories franchise leaders didn't brag about.
The NFL was still investigating allegations by more than a dozen women of widespread sexual harassment by male co-workers in Washington's front office. Only weeks before, lawyers announced that the team had reached a confidential settlement to resolve a legal battle over secretly-produced lewd videos featuring unsuspecting women it its cheerleading program.
Then there was Daniel Snyder. For much of his 21 years as the principal owner, he had tussled with the head coaches and team executives over issues large and small, and it seemed to many observers that no matter which side won off the field, the team kept losing on it. Could front-office diversity finally solve that problem?
And there was also the name the team had gone by for nearly 90 years: Redskins. Protests and law suits had called on Snyder to get rid of it. "We'll never change the name," he told USA Today in 2017. "It's that simple. NEVER—you can use caps."
Three years later, amidst nationwide protests and players' continued racial justice demonstrations, sponsors threatened to withdraw millions of dollars in support. Snyder dropped the old name, and said the team would have a new one soon. That 'soon' had yet to come.
Often in the past, Snyder had tied hopes for a better future to glories of the team's past. And his newly chosen general manager, Martin Mayhew, had been a starting cornerback when the Redskins beat the Buffalo Bills 37-24 in Super Bowl XXVI on Jan. 26, 1992—the team's last appearance in the NFL's championship contest.
Washington won its first Super Bowl four years before that with Doug Williams at quarterback, defeating John Elway and the Denver Broncos 42-10. Williams made history that day as the first Black quarterback to be a Super Bowl starter, and also the first to be named the game's Most Valuable Player.
Those feats earned him a lasting place in team lore, especially in Washington-area Black communities where folks have slowly warmed to a franchise that famously was the NFL's last to abandon an all-White roster.
The team has had 21 different starting quarterbacks in the years since Williams' triumph, including five who are Black. Yet none has achieved the aura around him as a home-team hero and adopted native son of sorts. (He hails from Louisiana.) And none of the Black hopefuls has lasted on the team roster for more than three years.
Dwayne Haskins, a 2020 first-round draft choice out of perennial college powerhouse Ohio State, was the latest would-be successor. But just after Christmas, he and Washington parted ways on mutually unfriendly terms.
In the face of all those challenges, the promotion of Jennifer King to full-time status was a relatively small and insignificant step. Ron Rivera, Washington's head coach, suggested otherwise.
"I do think that it is important that there is diversity," he told Svrluga of The Post. "I think that's huge, whether it's by race or gender. I just think that making sure things are all equal and everybody's given the opportunity" is important.
Time will tell, said Jodi Balsam, a Brooklyn Law School professor and former lawyer for the NFL. "Diversity hires alone are not the solution if you have a team that does not provide the environment for those diverse hires to succeed," she told The Post. "Diverse hires shouldn't raise expectations when they are hired only to struggling teams. It's great to make diverse hires. Yes, let's support that. Put them in situations where they can succeed, not fail."
The team named King a full-time assistant coach for running backs in January. She previously had the same designated role on the staff as a full-time intern. She had been a coaching intern for the Carolina Panthers for two years and came to Washington with Rivera, who was the Panthers' head coach from 2011-2019.
King had been an assistant women's basketball coach at Greensboro College, as well as a star quarterback and wide receiver for the Carolina Phoenix of the Women's Football Alliance, a league of professional, full-contact teams.
She is the only woman among the Washington team's 21 assistant coaches, along with at least six Black male assistants. The Tampa Bay Buccaneers, the current Super Bowl champions, have 23 assistant coaches; two are women and six are Black men.
The Buccaneers are considered by many as a league leader in diversity among coaches because a much larger role in running the team is that of a coordinator, not an assistant coach. Being a coordinator is very often a prerequisite for becoming a head coach. All four of Tampa Bay's coordinators are Black men. None of Washington's three are.
The Washington Team hired Jason Wright in August, making him the first Black or African American team president in NFL history, and at 38, the league's youngest. "For any people of color, when you're the first of anything, it's meaningful," Wright told columnist Ken Belson of The New York Times.
At the time, people of color made up less than 20 percent of senior positions in NFL front offices, The Times reported. One of the principal organization's advocating more diversity in professional football applauded the choice. "We hope that it signifies a true change for the manner in which leadership is chosen in the NFL," Rod Graves, executive director of the Fritz Pollard Alliance, said in a statement.
Wright had played on four different teams during his eight-year NFL career as a running back. Since leaving the game in 2013, he worked as a consultant, advising corporations, universities and government organization on how to improve workplace culture.
His job in Washington primarily involves operations, finance, sales and marketing. He came into it mindful of the past, and sober-minded about the future. "Let's be clear," he told The Post. "I'm not a savior. Neither is Coach Ron Rivera. There's no silver bullet for turning around an organization."
It was Wright who announced late last month that a new team name might not come for another year, and the current one might become permanent because it "has something that ties deeply to our history."
"It feels like [keeping the Washington Football Team] isn't jettisoning all the things we have been in the past, whereas something that's completely new might feel that way," Wright told ESPN. "It is important for a substantial part of our fan base to feel that this is a continuation of something versus a complete reset, something brand new."
Snyder's decision to drop the team's old name came last summer, in the midst of social justice demonstrations and protests following the killing of George Floyd by Minneapolis police officers in May.
Shortly after Floyd's death, FedEx and Pepsi, among others, said they would pull out of their sponsorships if the team's name were not changed, and Nike removed Washington team merchandise from its Web site.
Mayhew, Washington's new general manager, is part of a three-man executive crew that includes Rivera and Marty Hurney, who was a Panthers' general manager when Rivera was the team's head coach, and was named executive vice president for football operations and player personnel in Washington the same day Mayhew was announced as Washington's general manager.
Finding a new starting quarterback was expected to be the trio's first major challenge. The last two Black prospects to fill that role, Haskins and, before him, Robert Griffin III, had been high-profile, first-round draft choices but quickly proved not up to expectations. In both instances, some observers felt, Snyder had overruled the preferences of head coaches who wanted to select someone else.
In March, the team signed journeyman Ryan Fitzpatrick, who had played for eight different teams in his 16-year NFL career, as its presumptive starting quarterback for next season. Fitzpatrick is White. Rivera said Fitzpatrick was his choice, although he did not rule out bringing in another prospect in the NFL draft later this month.