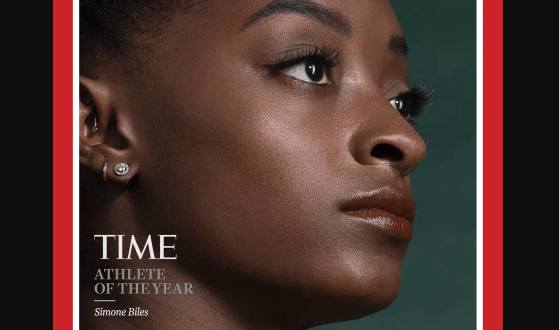 By Aaliyah Seabrooks
In the midst of her muddled path to and through the Olympic summer games in Tokyo, it would have been difficult to imagine that four months later, Simone Biles would be celebrated as Time magazine's 2021 Athlete of the Year.
Midway into the competition where she had been expected to easily win several gold medals and cement her standing as the greatest gymnast the world has ever known, Biles took to the sidelines—citing a bad case of the "twisties," a disconnect between the mind and body that can disorient gymnasts as the flip and spin through the air.
Athletes of all sorts weighed in. Some credited her with focusing on the often overlooked pressures—physical and especially mental—faced by those expected to show their best stuff time and again under whatever conditions. Others suggested they simply didn't believe the hype.
Biles faithfully cheered her teammates to a gold medal performance, and won a silver and a bronze in individual competition. Yet only weeks after the flame in the Olympic cauldron was extinguished, she was testifying tearfully before a Senate committee wanting firsthand knowledge about how Team USA doctor Larry G. Nassar had abused her and hundreds of others.
With all that seemingly behind her, Biles reflected on how bad it really had been.

"If you looked at everything I've gone through for the past seven years, I should have never made another Olympic team," she told Camonghne Felix of The Cut, an online women's magazine in September.
"I should have quit way before Tokyo, when Larry Nassar was in the media for two years. It was too much," Biles said. "But I was not going to let him take something I've worked for since I was 6 years old. I wasn't going to let him take that joy away from me. So I pushed past that for as long as my mind and my body let me."
Part of that push included therapy, which Biles had begun shortly after Nassar's crimes were disclosed in 2017. Six months before the Tokyo games, she felt she no longer needed it, Time reported. "I'm fine, Mom," her mother Nellie told the magazine the daughter had said.
But then came the twisties incident, and the two were on the phone again, the magazine reported. The daughter was crying: "The only thing Simone kept saying was, 'Mom, I can't do it. I can't do it," says Nellie."
Team USA mental-health experts in Tokyo provided the nudge that led Simone to compete in the finals on the balance-beam, where she finished third.
"At that point, it was no longer about medaling, but about getting back out there," Simone told Time. "I wanted to compete at the Olympics again and have that experience that I came for. I didn't really care about the outcome. On that beam, it was for me."
Nassar has been sentenced to numerous life terms in prison, and earlier this month, Biles and others abused by him, their coaches or others reached a $380 million settlement with USA Gymnastics and the United States Olympic & Paralympic Committee in a federal bankruptcy court.
And just as months ago, Biles is being praised and thanked by her peers and others for her focus on mental health.
The sprinter Allyson Felix, herself an Olympic icon, told Time that Biles's decision to pay more attention to herself than to medals would be felt by the next generation, including Felix's three-year-old daughter Camryn.
"When thinking about role models for Cammy, wow, here is someone showing you can choose your mental health over what the world says is the most important thing," Felix said.
Ty-La Morris, 14 and an aspiring gymnast from the Bronx, gave Biles props for her personal fortitude in standing up to criticism. "Everybody kept coming after her, and nobody was in her shoes," Morris told the magazine.
Washington-area therapist LaNail Plummer applauded Biles for reclaiming her own identity. "Our bodies have always been under scrutiny," Plummer told Time. "Oftentimes, Black women are not given the freedom to be able to just be authentic. Oftentimes, they have to be what somebody asked them or designed for them to be."
Biles herself seemed to acknowledge that authenticity, and a source of her personal strength: a tattoo on her collarbone based on the Maya Angelou poem "Still I Rise."
"It's a reminder and a tribute to everything I had been through, and that I always come out on top," she told her Time interviewer. And she doesn't regret the events of the past year.
"I do believe everything happens for a reason and there is a purpose," Biles said. "Not only did I get to use my voice, but it was validated as well."
The closest thing to a breeding ground for Olympic gymnasts in the Washington area may well be in and near the city of Gaithersburg (population: 70,000) in upper Montgomery County, Maryland.
Down county, closer to the D.C. line, are the more well-known, more affluent places like Silver Spring, Bethesda, and Potomac. Gaithersburg, a region of up-and-coming working class and professional families, is closer to the West Virginia state line than it is to the White House.
Here there is the suburban equivalent of a gym on every corner. Some have intriguing names—Dynamite 2 and ShellyFLEX, for two. Others seem more organic, and suggest a greater commitment to the craft—Preston Gymnastics Academy, for example, and Elegance Gymnastics School.
Two others have histories and reputations to brag about: Dominique Dawes Gymnastics and Ninja Academy, owned and operated by the first Black woman to win an Olympic gold medal in the sport in 1996, "Awesome Dawesome," as she was nicknamed then; and Hill's Gymnastics Training Center.
It was at Hill's that Dawes herself was developed into a three-time Olympian, and where just this year Kayla DiCello, 17, was molded into Olympic form and earned a spot as an alternate for the Tokyo games. She followed up that with a bronze medal finish in the all-arounds at the World Artistic Gymnastics Competition in October in Kitakyushu, Japan.
Saturday afternoons in the fall in this part of Gaithersburg brings a flurry of parents, grandparents and nannies whizzing around parking lots dropping off, picking up or just waiting for children of various ages going into or coming out of the gyms.
The youngsters are inside on their own for relatively long periods of time, but there is little chatter about any possible physical, verbal or sexual abuse they might confront during the time they are separated from their guardians of the hour.
The temptation to go for the gold at whatever cost is part of the talk of the time—that all-consuming drive to be the greatest that Biles said pushed her to reach for one previously unreachable performance level after another; those years of intense training and workouts to get through countless injuries in pursuit of glory.
Dawes had recalled that pressure more than a year before the Tokyo Olympic games. She was then a mother in her early 40's with three children of her own and opening her own gym with a pledge not to visit the issues of her own past on others, including her children.
"Really it took me being a mom, and having a different perspective on things of my childhood and realizing, hey, the way that I was spoken to or treated, there's no one that's going to treat my children that way," she told Washington City Paper in January of last year.
"My childhood of 36-plus hours in the gym and wake up at 5 a.m. and training for multiple Olympics is not the norm," she said. "If your kid is that talented and really wants to do that, by all means I'm not going to squash your dreams and hopes, but this might not be the environment for you. So I'm talking about the importance of having a balanced childhood."
She repeated that refrain as the games began this summer, and Simone Biles's issues became more public.
"It's not about having kids sacrifice their whole childhood to get this slim chance at making it to an Olympic Games," Dawes said, again to Washington City Paper. "It's too much pressure. It's too much that a young girl gives up. And it really does take a toll on them physically as well as mentally and I do feel as if that's what we're seeing in the great Simone Biles."
On one chilly Saturday morning amidst a swirl of falling leaves, Zeliha Gunay, a dental assistant, sat in her car outside the Dawes gym with one daughter, waiting for another to come out of a session inside.
She had enrolled the seven-year-old not in pursuit of gold, but rather because the pandemic had curtailed many of the young one's usual activities, and she needed to be doing something physical that also was constructive.
"At least she can see her abilities," Gunay said as her daughter's third visit to the facility was ending. "Sometimes she can jump over the bars and on the beams and she is getting better. She's getting more sure of herself."
Adriana Dunaev has two daughters who take rhythmic gymnastics classes three times a week at the Elegance Gymnastics School. She had wanted to put them in ballet school, but at three and four, they were too young. "They were just taking five- and six-year-olds because they say that it's very tough," Dunaev said.
The mother seemed prone to accept the physical challenges that might come. "It's supposed to hurt. The life of a gymnast and an athlete, right? Your body hurts all the time, so you have to live with it and make it a part of that. It gives them more skills to survive," she said.
But she also wanted to be protective. "I am with them all the time and that is not just a concern that I have with gymnastics. I am always with them," Dunaev said. "I make sure that everybody that surrounds them know that we, as parents, are always present."
Li Ling's son is on a boys' team of 12- and 13-year-olds at Preston Gymnastics Academy, and also has received a ballet scholarship. The mother glowed as she showed photographs of him in a magazine and also in a local newspaper as she waited in the family minivan on a drizzly October morning.
He is passionate about the sport, she said, but he also needs to be practical. Although he began gymnastics at the relatively older age of 10, she will support him whatever comes to past. "If I think he has a future, I will push him," she said.
Biles's reputation as a greatest of all time often overshadows the fact that she did so in a sport where the number of women who look like her is increasing, if only more slowly than some would like.
Part of the pressure she felt, Biles said in The Cut interview, was related to that reality. "As a Black woman, we just have to be greater," she said. "Because even when we break records and stuff, they almost dim it down, as if it's just normal."
Columnist and commentator Jemele Hill was especially critical of those who questioned Biles's stepping away from the team competition in Tokyo as a result of the twisties and mental health concerns.
"Efforts to paint Biles as a mentally fragile quitter play into conservatives' frequent insinuations that Black Americans are not as patriotic as they are—despite the long history of Black people representing, performing for, and fighting for this country without the benefit of full equality," Hill wrote in The Atlantic in July.
A month before, she talked of the historical and cultural significance of what Biles would or would not do at the Tokyo games.
"As impressive as her consistent dominance is, what Biles has come to mean to Black culture, to women, and especially to Black women is bigger than her all-out assault on the record books," Hill wrote.
"Her excellence is an act of resistance. She is openly mocking expectations about what she should or shouldn't do. Through her performances, she is creating a previously inconceivable new standard for her sport."
Sunisa Lee, who took over for Biles in Tokyo and won the all-around gold medal, thanked her for leading by example.
"What Simone did changed the way we view our well-being, 100%," Lee told Time. "It showed us that we are more than the sport, that were are human beings who also can have days that are really hard. It humanized us."
That seemed only in keeping with what columnist Hill had foreseen earlier in the year in her characterization of Biles—her past, present and possible future:
"For some reason," Hill wrote in July, "people seem bothered by the fact that athletes of this generation prioritize their own physical and mental health and don't necessarily want to be regarded as invincible.
"Even though Biles was betrayed by her sport, she redefined it—and she doesn't owe anyone anything. Certainly not her peace of mind."
CORRECTION: An earlier version of this article misspelled the name of the first Black woman to win a gold medal in Olympic competition. She was Dominique Dawes, not Dominic Dawes. The error has been corrected above.