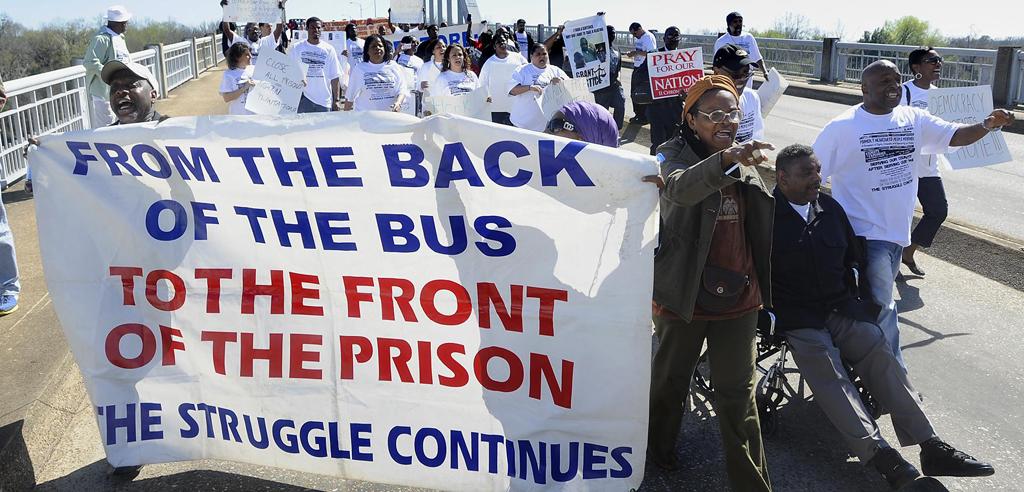 By Nyah Marshall
The third largest community of would-be voters in Granville County, N.C. is neither a city nor a town. It is four federal correctional centers and a state penitentiary that house more than 4,000 inmates, about half the population of the two largest cities—Oxford, the county seat, and Butner, where the prisons are located.
By law, none of those prisoners can vote. Yet, because the county is where they usually eat and sleep while serving time, Butner has an official population that has given it more representation in county government than other districts with the same number of residents, but far fewer who are imprisoned.
And earlier this year, Republican state legislators redrew Congressional districts in the state. They moved Granville and three other counties that supported President Trump in 2020 into a district that had backed Trump's Democratic opponent, Joseph R. Biden Jr., and sent a Black person to Congress for nearly two decades.
The four Trump-leaning counties replaced Pitt County, whose population is about 35 percent Black and includes the city of Greenville, N.C. The new map reduces the Black population in the Congressional district by about 7,000, while increasing the number of Whites by about 11,000.
Counting prisoners in the places where they live has been standard practice of census takers from the beginning of the nation. Manipulating those counts to significantly affect voting as critics say is now being done in North Carolina and elsewhere also has a precedent of sorts.
"This tactic is very much similar to the way that the three-fifths compromise in the federal Constitution gave to Southern states additional political power based on the fact that they owned these slaves or enslaved people" who could not vote but could "count as part of their population to gain additional representation with Congress," Irving L. Joyner, a law professor at North Carolina Central University in Durham, said in an interview. "So it's the same kind of concept that we're dealing with."
Prisons and their inmates have become an indispensable part of the voting rights struggles of the 21st century, which are more widespread and more urgent than only a few years ago.
"Without a doubt it's worse than it was in any recent decade," Leah C. Aden, a deputy director of litigation at the NAACP Legal Defense and Educational Fund, told The New York Times. "We have so much to contend with and it's all happening very quickly."
Republicans at the local and state levels are exploiting existing laws and passing new ones that critics contend would severely limit who can vote and whose votes are accurately counted if counted at all.
Democrats are pushing back, asserting that the GOP efforts are White supremacy and Jim Crow-era racism in partisan clothing, while at the same time pressing for national legislation that they say is essential to preserve the democratic foundation of the nation and outlaw voter suppression and election subversion.
And it all is taking place in what both sides concede is a critical window of opportunity following the 2020 census, and preceding pivotal Congressional contests in 2022 and Presidential voting two years later.
North Carolina has been a focal point of many of the battles. Early last month, the state Supreme Court ordered primary elections scheduled for March 8 postponed until May 17 to permit resolution of two lawsuits challenging the redrawn maps.
One argues that Republicans in the state legislature who control the redistricting process neglected racial data when they redrew the maps. The other accuses them of grouping large numbers of Black voters into the same district in some cases, and breaking them up in other instances to dilute their electoral power—a practice that some observers have dubbed "packing and cracking."
Early this month, a three-judge panel of state Superior Court judges rejected the complaints and said the news maps should go into effect, but critics were expected to appeal that decision.
The new map that swaps out Pitt County for Granville and three other GOP-leaning counties effectively deconstructs the Congressional district that G.K. Butterfield, Black and a Democrat, has represented since 2004.
"The map is gerrymandered. It's politically gerrymandered and it's racially gerrymandered" and it's "almost impossible to win" for a Democrat, Butterfield told WRAL's NCCapitol. "Let's call it a five-alarm fire," he told The New York Times. "I just didn't see it coming. I did not believe that they would go to that extreme," he said.
The new map also would require Alma Adams, the only other Black person in the state's Congressional delegation, to run against another Democratic incumbent in a newly-configured district to be re-elected. Her current district, which stretches from Charlotte to Greensboro 90 miles away, has been represented by a Black Democrat since 1993.
In addition, state political observers said, four of the 12 Black senators in the state's General Assembly and five of the 24 Black members of the House are considered likely or certain to lose their seats as a result of the redistricting.
From its beginning in 1790, the census has counted people in what was determined to be their usual residence. So, prisoners were counted where they were imprisoned, and included as potential voters in order to comply with the one-man-one-vote requirement of the Constitution.
Exemptions were made for some others. Members of the military, for example, were counted as part of the population of their home bases rather than where they were deployed. But that did not happen when tough-on-crime policies led to unprecedented imprisonment, especially of African Americans and Latinos, in the 1980s and 1990s.
The result of those policies, generally referred to as mass incarceration, was "a surge of prison construction, particularly in rural communities where extractive industries and agriculture are on the wane," the Colorado-based news organization High Country News reported last year. "On paper, such communities appear to be thriving, diverse places; in reality, they are essentially penal colonies, where a significant portion of the populace lives behind bars."
Granville County is in some ways emblematic, although not as much so as Susanville, California, which was the subject of "Prison Town, USA," a 2007 PBS documentary, and is now the focus of what some consider a struggle for survival in the face of efforts to reduce mass incarceration.
Susanville is a border town about 90 miles northwest of Reno, Nev., and nearly half the population works in one of two state prisons in the town or at a nearby federal correctional institute. The inmates are counted as part of the town's population and have allowed Susanville to get more federal pandemic relief funds as well as additional state money to maintain roads.
The state is now planning to close one of the prisons as part of a years-long effort to decrease incarceration, which is down from a high of 160,000 several years ago to 100,000 now, The New York Times reported this month.
Many residents in the area, where nearly 75 percent of the voters backed President Trump in 2020, are casting the proposed shutdown as politically motivated retribution by Gov. Gavin Newsom, a Democrat, that could be disastrous.
"It will affect the whole town. I don't want to imagine what it would be like," Susanville Mayor Mendy Schuster told The Times.
As the nation's prison population grew yet inmates were not allowed to vote but could be counted for determining the size and make-up of political subdivisions and the public funds and other economic benefits attached to them, prisons and inmate populations became a wild card.
Prison gerrymandering became an important part of the political game, and the players, in some ways, can be identified by the color of their skin. "The racial and ethnic makeup of U.S. prisons continues to look substantially different from the demographics of the country as a whole," the Pew Research Center reported.
"In 2018, black Americans represented 33 percent of the sentenced prison population, nearly triple their 12 percent share of the U.S. population. Whites accounted for 30 percent of prisoners, about half their 63 percent share of the adult population. Hispanics accounted for 23 percent of inmates, compared with 16 percent of the adult population."
Racially, nearly 60 percent of those in federal correctional institutes are White, but almost 40 percent are Black, and ethnically, 30 percent are Hispanic, according to Bureau of Prisons data.
North Carolina mirrors those statistics. While about two of every 10 persons in the state's population is Black, five of every 10 in prison are Black.
A recent report from the Vera Institute of Justice noted that the rate of incarceration is highest in smaller cities and rural counties, but the largest number of prisoners come from the largest counties, and while population in rural areas is declining, it is growing in urban ones.
Some three-quarters of the prisoners in the top 10 North Carolina counties that sent persons to prison come from metropolitan areas centered in the six largest cities—Charlotte, Durham, Fayetteville, Greensboro, Raleigh and Winston-Salem.
The Voting Rights Act of 1965 forbade denial of voting rights on racial grounds. At the time it was passed, Black Americans were far more bipartisan than now, in large part because historically, the Republican Party had opposed slavery and its spread.
Since the act's passage—and, some contend, because of it—the once reliably Democratic-voting South has become more solidly Republican. Nine of every 10 persons in the nation who identify as Republican are White, while eight of every 10 Black persons identify as Democrats. Party identification has become a new racial identification.
In its many rulings over the past two decades, the U.S. Supreme Court has essentially passed on determining whether allegations of gerrymandering based on partisanship are the same as those based on race, and hence unconstitutional. It has said that Congress needs to give it guidance on the difference.
The Freedom to Vote Act, one of two major voting rights bills currently before Congress, would outlaw partisan gerrymandering. The other, the John Lewis Voting Rights Amendment Act, would restore the preclearance process for states with past histories of voter suppression that was part of the 1965 act.
Some North Carolina Republicans argue that the redrawn districts are colorblind.
"To say only a person of a certain racial or ethnic group can represent only a person of the same racial or ethnic group has all the trappings of ethnocentric racism," Republican Kirk Smith, chairman of the board of commissioners in Lee County, N.C., near Raleigh, told The New York Times.
A bipartisan three-judge Superior Court panel echoed that view in its January 11 ruling on the new maps, saying that redistricting to obtain partisan political advantage is a standard practice.
"Redistricting and the political considerations that are part of that process do not impinge on the right to vote. Nothing about redistricting affects a person's right to cast a vote," the judges wrote.
In September, however, a three-judge Superior Court panel struck down a 2018 state law requiring presentation of photo identification as a prerequisite for casting a ballot, saying that the provision "was motivated in part by an unconstitutional intent to target African American voters," who are less likely to have the required documents.
The two-judge majority opinion said that while there was no indication that those who backed the measure had "any racial animus or hatred toward African American voters," the Republican supermajority that imposed the requirement targeted folks who were more likely to vote Democratic.
Joyner, the NCCU law professor, said the photo identification legislation as passed would have disproportionately affected many older Black residents who were born at a time or in an area of the state where many Black births occurred in homes or were handled by midwives and recorded in family Bibles and other private records.
"Typically, birth certificates are available to people who are born in hospitals, where the doctor signs off on the attestation of the live birth of the person and then a birth certificate is issued, and is preserved," Joyner said.
"So if you don't have a birth certificate, then you can't get a driver's license and other photo IDs that are issued by the state," he said.
In August, a three-judge panel ruled that the state could not withhold voting rights from ex-felons who had yet to be discharged from probation, parole or court supervision, which often does not occur until years after they are released from incarceration.
Black residents make up about 20 percent of the state's voting-age population, but 40 percent of those not allowed to vote because they are on parole or probation, the challengers contended in court papers.
The legislation had been enacted in 1877, a time when the 15th Amendment guaranteed voting rights for Black Americans. Judges in North Carolina circumvented the law by declaring that anyone convicted of a crime for which public whipping was the penalty could be denied the right to vote. Large numbers of Black folks subsequently were convicted of crimes for which whipping was the punishment, and thereby barred from voting.
"In court arguments, neither side disputed the racist origins of the law," The New York Times reported. "But lawyers for the General Assembly and the elections board [that supported the measure] argued that changes in the early 1970s removed that racist taint—even if the consequences—depriving former felons of voting rights—had not changed."
North Carolina is not the only state where prisons and prisoners are increasingly figuring into political calculations. Earlier this month, the Ohio Supreme Court rejected a redistricting plan drawn by that state's Republican-controlled legislature on grounds that it did not comply with a 2015 amendment to the Ohio constitution that new districts based on the 2020 census be less partisan than the existing ones.
The commission that redrew the maps argued in court that the goal of less partisan districts was only "aspirational," not mandatory.
The court disagreed. "We reject the notion that Ohio voters rallied so strongly behind an anti-gerrymandering amendment to the Ohio Constitution yet believed at the time that the amendment was toothless," the majority opinion in the 4-3 decision said.
Asked about the Ohio case on MSNBC's "Morning Joe," former U.S. Attorney General Eric H. Holder Jr., chair of the National Democratic Redistricting Committee, called it "probably the most important judicial decision we've seen in regards to redistricting in this cycle."
In 2019, a federal judge ruled that Florida could not prevent convicted felons from registering to vote if they had not paid fines and other financial obligations stemming from their convictions. The GOP state legislature had passed a measure defining such obligations as part of a court-ordered sentence.
Opponents of the Florida law had argued that requiring ex-felons to pay legal fees before being eligible to vote amounted to a modern-day version of the Jim Crow-era poll taxes, which were outlawed by ratification of the 24th Amendment in 1964.
A recent Villanova University study of state legislative districts in Pennsylvania found that about 264,000 people—more than 100,000 Black Philadelphians alone—are disenfranchised because they are incarcerated and living in places other than where they lived before imprisonment.
If the prisoners incarcerated elsewhere were counted as part of the city's population, there is a "substantial likelihood" that Philadelphia would have an additional majority-minority district seat in the state legislature, the researchers said.
In Illinois, nearly half the state's prisoners come from the Chicago area, but close to 90 percent of them are counted as residents of other areas of the state, a Prison Policy Initiative study found.
Waupun, a predominantly-White town of about 12,000 in Wisconsin, is home to three state correctional facilities housing some 3,500 inmates, who comprise the majorities in two of the town's voting districts—although none can vote.
Wisconsin has the highest Black imprisonment rate in the nation, The Sentencing Project reported this year: "One of every 36 Black Wisconsinites is in prison."