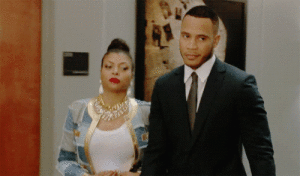 Imagine a 4-year-old girl playing on a Harlem playground. She's laughing and having a great time in the beauty of a warm summer afternoon. Then, all of a sudden, she is hit by a stray bullet. The innocent little girl collapses to the ground and cries. She's rushed to the emergency room where the bullet is removed.
After a few weeks, the girl has fully recovered. All is back to normal. Except whenever she hears a loud noise, the shooting replays in her mind. In a flashback, she relives the worst experience of her short life and becomes distraught. Each time this happens, her mother tells her to "stop crying" and to "suck it up."
Terrie Williams, a licensed psychotherapist in New York City, recalled this story of post-traumatic stress disorder as she explained how many African-American families fail to address mental illness even when it is "screaming in their faces."
Another example of the impact of mental illness was portrayed in an episode of the Fox drama "Empire," when Andre, the eldest son of Lucious and Cookie Lyon, confesses to his family that he was being treated for bipolar disorder. His mother responded that such mental illnesses are "white people's problems."
But are they?
Behind the Taboo of Mental Illness
In a 2012 survey, black respondents said personal traits were the cause of ADHD and other behavioral problems, according to Mental Health America, a nonprofit dedicated to addressing the needs of people with mental illness.
"Culturally we have been brought up to stay strong and tough it out," said Williams, author of "Black Pain: It Just Looks Like We're Not Hurting."
"Never do we talk about our emotions or what's going on with us internally," she said. "However, not addressing the issue means to die a slow and lonely death."
Some researchers say such attitudes about maintaining personal self control may have its roots in slavery. "We often talk about post-traumatic slavery disorder, which looks at the long-term impact of slavery," said Darlene Powell Garlington, Ph.D., a clinical psychologist in New York City. "An example of this is beating our children. Is that something that was done to our ancestors and passed down?" Garlington asked. "Looking at the impact of being oppressed, mistreated or marginalized, it can have generational patterns."
Additionally, Tanya Alim, M.D., a psychiatrist in the Department of Psychiatry and Behavioral Sciences and director of the Mental Health Center at Howard University, said people who experience a mental health episode often don't understand what they are experiencing. For example, patients may initially complain of physical symptoms such as a stomachache, nausea or fatigue. Once it is apparent that this is more than a physical illness, Dr. Alim said a number of cultural barriers contribute to the reluctance in getting help. According to Mental Health America, the barriers include:
    Denial (40 percent)
    Embarrassment/shame (38 percent)
    Refusal to get help (31 percent)
Other barriers to African Americans getting treated for mental illness may be a lack of money or insurance, fear and feelings of hopelessness. White and Asian Americans are more likely, however, to seek help and treatment, according to Mental Health America.
Bill Campbell, a licensed marriage and family therapist and counselor at the Christian Wellness Center in Somerset, N.J., also notes that African-American families are used to keeping secrets. "If someone in a family has a mental illness, the family is trained not to portray that to outside people," Campbell said.
A Growing Problem
The problem is not going away. African Americans are 20 percent more likely to report having serious mental health problems than the general population, according to the Office of Minority Health at the U.S. Department of Health and Human Services.
According to the Journal of the American Medical Association (JAMA Pediatrics), the suicide rate among young black boys doubled between 1993 and 2012, even as such incidents have decreased among white boys.
While blacks are less likely than whites to actually die from suicide as teenagers, black teenagers are more likely to attempt suicide than white teenagers (8.2 percent v. 6.3 percent), Mental Health America reported.
Although the journal cites no specific cause in the rise in suicide, Williams said the multiple news reports of unarmed black men being killed must have an impact.
"Nearly everyday we hear about someone being killed by police. That takes a toll on someone's psyche," Williams said. "These kids don't even plan on living past the age of 35. You cannot be in a healthy mindset if that's what you're thinking about all the time."
Addressing the Problem
Over the last decade, Psychology Today reported an increase in the number of black Americans seeking treatment for ailments such as depression. Men are less likely to seek treatment than women. Though more people are seeing therapists, Campbell says many of them are turning to church-based counseling for help at places like the Christian Wellness Center, instead of secular clinics.
"Because it was a Christian center, a lot of people came, even though they were not Christian," he said. "A lot of our patients say they come because they think it's safe and they think we will be fair to them."
Campbell said many blacks don't feel comfortable speaking with someone of another race, because they may not be able to relate. Some black people may feel that white doctors may not understand enough about their culture to treat them properly.
For example, some black people may react differently to medication or their behavior may be misinterpreted when compared to white patients. In addition, there are not enough black psychologists to treat black patients. In 2013, only 5.3 percent of psychologists said they were African-American compared to the 83.6 percent of white respondents in an American Psychological Association survey.
Though African Americans may be afraid or scared, Williams says that addressing the issues and having an open dialogue is imperative in order to recover.
"We tend not to see a therapist," Williams said. "That's a lot of stress and a lot of anxiety to be under. If we don't talk about it with someone, the problems we have tend to come out in very unhealthy ways."
Garlington, a clinical psychologist in New York City, says the best way to destigmatize mental illness is to normalize it. "Whether it is anxiety or depression, we all are going to experience some sort mental illness," she said.
Garlington went on to say that now is the time the community must get together and acknowledge that African-Americans do in fact experience mental illness.
"We need to spark conversation — campaigning and showing people that have gone through the same issues so that they can identify with it," Garlington said. "This will help us with our own pain and suffering. Forums, family members and even the media need to be used to address this issue. We need to talk about it."
Truth Be Told
African Americans are indeed suffering mental illness, given the higher prevalence indicated by federal data and the rise in suicide. Contrary to popular belief, it's not just "white people's problem." Sorry, Cookie.
Rushawn Walters is a reporter for TruthBeTold.news, based at Howard University.