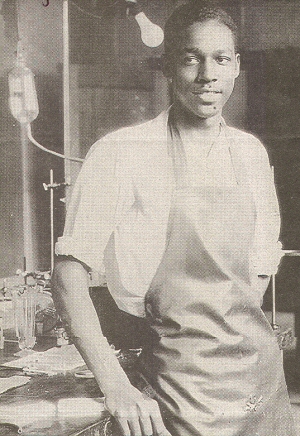 February commemorates the annual celebration of Black History Month, which highlights the important contributions by people of African descent. Each year, however, we discover that there are many more black individuals and groups that significantly contributed to today's world, yet remain unacknowledged in today's history lessons. Black people have made (and continue to make) considerable advancements in the arts, academia, politics, sports and medicine. This feature sheds light on some of them.
By Sydney Williams
Two of the country's most notable black medical professionals include Dr. Daniel Williams, who performed the first successful open-heart surgery, and Dr. Charles R. Drew, a pioneer in creating blood banks. Another important black medical professional who is often overlooked is Dr. Vivien T. Thomas.
Thomas was a surgical technician whose career began in the 1940s. Thomas helped carry out the first "blue baby" operation at Johns Hopkins Hospital. A profile in the Baltimore Sun said that Thomas advised Dr. Alfred Blalock and Dr. Helen Taussig during the 1944 operation, which treated a condition in children that causes a lack of oxygen in their blood and turns their skin blue. Thomas had researched the issue extensively in his studies and previously performed the same operation on dogs. He was unable to perform surgery on humans because he did not have a medical degree, according to the Sun.
After the success of the surgery, Blalock and Taussig received many accolades, but never acknowledged Thomas's considerable assistance, a Vanderbilt University biography noted.
Thomas was born in Lake Providence, Louisiana, in 1910 and raised in Nashville. After finishing high school, Thomas enrolled at Tennessee Agricultural and Industrial College to study pre-medicine. But he lost a substantial amount of his savings in the stock market crash that led to the Great Depression, and didn't have the money to finish school. He later became a medical assistant at Vanderbilt University, where he conducted research and gained operative experience.
According to the profile published by the Vanderbilt University School of Medicine, Thomas worked as a research associate, surgical laboratorial supervisor and an instructor in the surgical department at Johns Hopkins. In 1976, Johns Hopkins University awarded Thomas an honorary doctoral degree. After receiving this honor, Thomas was promoted to the university's medical staff as an instructor of surgery before retiring in 1979. According to a biography published by the Morehouse School of Medicine, "He helped train many of the surgeons at Johns Hopkins in the delicate techniques necessary for heart and lung operations."
Thomas died in 1985, but he remains respected throughout the medical world for his intelligence and impactful contributions to surgical advancements, feats all the more remarkable considering he never obtained a formal medical degree.