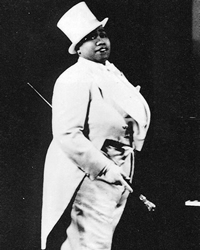 February commemorates the annual celebration of Black History Month, which highlights the important contributions by people of African descent. Each year, however, we discover that there are many more black individuals and groups that significantly contributed to today's world, yet remain unacknowledged in today's history lessons. Black people have made (and continue to make) considerable advancements in the arts, academia, politics, sports and medicine. This feature sheds light on some of them.
By Briana Wright
When you think about the greatest performers during the Harlem Renaissance, Gladys Bentley probably wouldn't be one of the first to pop up in your mind, but nonetheless she was one of the most talented, successful and well-known entertainers of her time.
Bentley wasn't the typical female performer as she was a lesbian who dressed in a top hat and a tuxedo, with the stage name Bobbie Minton, defying all gender normalizations during the Prohibition Era. Not only was Gladys Bentley a gifted pianist and blues singer, but she was also a pioneer in testing the limits for sexuality, gender and race in her performances.
Gladys Bentley was born on Aug. 12, 1907, in Philadelphia to a Trinidadian mother and black American father. Bentley's mother worried about her attraction to women for most of her childhood, according to an article in the New York Times. Her parents tried to "cure" her of her homosexuality by taking her to numerous doctors; money eventually became an issue in the household. She used music as an escape from her controlling parents and ran away to New York at age 16. Bentley started to perform at rent parties, then soon after she put on shows at nightclubs and speakeasies.
Weighing 250 pounds, Bentley had an extremely deep singing voice that appealed to black, white, gay and straight audiences. By 1933, Gladys Bentley began to headline shows at nightclubs and theaters such as the Apollo. The following year, she started to put on her own musical revues at the Ubangi Club in Harlem, New York, where she performed until 1937. According to The Times, Harlem Renaissance poet and novelist Langston Hughes said Bentley was "an amazing exhibition of musical energy."
Bentley's talent was something special and it didn't go unnoticed.
 She became very successful; she owned an apartment on Park Avenue with servants and other luxuries. However, after the repeal of Prohibition and she was joined in a same-sex civil union in New Jersey with her white lover, Bentley's popularity began to plummet along with the public's tolerance for homosexuality.
She moved to Los Angeles in 1937 to live with her mother, as her sexuality became less acceptable, which made it too dangerous to perform in Harlem. After World War II, her success took off again on the West Coast, as more gay bars and clubs began to open up. Bentley started wearing dresses on stage, claiming she was a "woman again," according to an article on history website blackpast.org. By the early 1950s, Bentley had married a man 16 years younger than her, but they divorced not long after.
Toward the end of her life, she devoted her life to Christ and was studying to become a minister but died before accomplishing that goal. Gladys Bentley died in 1960 at the age of 52 from a terrible case of the flu.
Bentley brought a new style of performing to the music industry, defying all rules of what a woman should look and sound like. Bentley became of the biggest lesbian figures during the Harlem Renaissance and was also one of the most well-known black entertainers in the United States at the time.