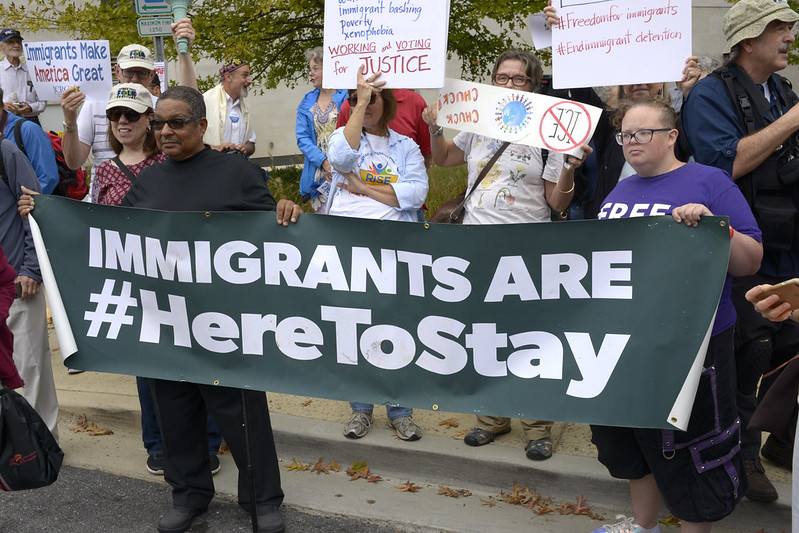 By Énoa Gibson
A federal judge has ruled that the Trump administration cannot prevent Central American migrants from requesting asylum at the southwestern border of the United States, a limited victory for the Washington area's Latino communities.
The administration last year began requiring persons fleeing poverty and persecution, mostly in El Salvador, Honduras and Guatemala, to apply from outside the United States and await a decision in a third country.
For decades, it had been standard practice to allow asylum seekers to apply from inside—even if they had set foot on U.S. soil illegally—and to remain here until their status was resolved.
The new policy was proclaimed last year, as the U.S. Border Patrol was in the midst of arresting more than 400,000 migrant families from the three nations. The administration contended at the time that the country was facing "an unprecedented surge in the number of aliens who enter the country unlawfully…and remain in the country while their claims are adjudicated."
Most are ultimately denied, but many are allowed to live and work here while waiting, and others are held in detention facilities. Those not granted asylum are deported.
U.S. District Judge Timothy J. Kelly of Washington ruled July 1, however, that the administration had "unlawfully promulgated" the new practice because it gave neither appropriate public notice nor allowed sufficient public comment prior to implementing the plan.
Similar procedural failures have plagued other administration efforts to abruptly and unilaterally change longstanding immigration controls anchored in existing law and upheld by the courts.
"It's notable in this case that Judge Kelly reiterated what other judges recently retorted to the administration: Do your homework," Claudia Cubas, litigation director for the D.C.-based Capital Area Immigrants' Rights Coalition, told The New York Times. The coalition was one of the groups that filed a lawsuit challenging the change.
The judge's ruling is not likely to have much immediate effect because the administration has used the COVID-19 pandemic and emergency health protections to effectively close the border to nearly all Central American migrants. Immigration advocates welcomed it, nevertheless.
"By striking down this rule, Judge Kelly reaffirmed two fundamental principles: The protection of asylum seekers fleeing for safety is intertwined with our national values, and that the United States is a country where the rule of law cannot be tossed aside for political whims, " Cubas said in a statement.
Lee Gelernt, an attorney for the American Civil Liberties Union (ACLU) which also is involved in the lawsuit, said, "This is yet another instance in which this administration has sought to bypass Congress where the lives of asylum seekers are at stake."
"The court properly recognized that the Trump administration has once again skipped important steps mandated by Congress to ensure transparency and input from the public," Gelernt told The Washington Post.
The Washington metropolitan area's Latino communities reflect a significant demographic evolution in the United States. Historically, the largest groups of Hispanic residents nationwide have been of Mexican and Puerto Rican background. In recent decades, however, Central American immigrants have moved past Cubans as the third largest group.
The number of immigrants in the United States from Central America, both legal and illegal, grew from 118,000 in 1970 to nearly 3.3 million in 2018—a rate six times greater than that of the immigration population as a whole. According to the most recent estimates, one of every 12 of the 44.5 million immigrants in the United States is from Central America.
The Center for Immigration Studies (CIS) estimates that 87 percent of those from Central Americans are from El Salvador, Guatemala and Hondurans—the Northern Triangle nations immediately southeast of Mexico. They have been driven north in large part by the ravages of civil wars in the latter years of the last century, and more recently, gang-related violence.
"Based on prior estimates by the Department of Homeland Security," CIS reported, "slightly more than half of El Salvadorans are in the country illegally, as are about two-thirds of Guatemalans and Hondurans."
The largest group of Central Americans in the Washington metropolitan area is persons from El Salvador, which, in addition to an embassy in the District, maintains one consulate in a Maryland suburb and another nearby in Virginia.
Diplomats from El Salvador are aware of the impact of the local presence on matters in the region, the nation and Latin America.
"Some members of Congress, governors, senators or any politician want to have the people on their side at election time," Dora Crespin, a counselor at the embassy, said in Spanish. "There is an interest in issues that relate to El Salvador, and given that the Salvadoran population in this area is significant, there is a significant influence on the electoral results."
The Central American communities have a prominent presence in many school systems, businesses and workplaces.
An estimated 40 percent of the construction workers who rebuilt sections of the Pentagon damaged on September 11, 2001, for instance, were Salvadoran immigrants, some of whom were working here under Temporary Protective Status (TPS) granted by the U.S. government after devastating earthquakes in El Salvador.
These communities have elected relatively few of their own to positions in local and state governments. But they are not easily ignored.
"Overall, local officials are representing communities that are increasingly changing their demographics and becoming more diverse," George Escobar, chief of services and operations for the immigrant rights group CASA de Maryland, said in an interview. "So they know that they have to show themselves to be representative of everybody in their jurisdiction, not just the traditional folk that have been voting for them for the last 60 years."
Central American communities in Montgomery and Prince George's counties, directly across the line from the District, have exercised considerable influence in Maryland state politics.
In 2012, the state legislature passed a Maryland Dream Act, which provided enhanced educational opportunities for students who had come to the United States as children with adults who entered the county illegally.
Early this year, the state legislature overrode Gov. Larry Hogan's veto of a measure that expanded that law to provide more support for undocumented immigrants to attend state colleges at in-state tuition rates.
In 2013, Maryland became the first state on the East Coast to allow persons unable to provide proof of legal status to obtain driver licenses. An estimated 275,000 undocumented immigrants are among those who may have acquired such licenses, and whose photos, addresses and other personal information would be in a state database.
Democrats in the General Assembly were marshalling support to prevent federal authorities from having relatively easy access to that data when the legislative session adjourned early as the coronavirus epidemic began to spread, and no action was taken.
Days before this month's asylum decision, the U.S. Supreme Court upheld Obama-era protections for an estimated 700,000 Dreamers, saying that the administration's plan to end the safeguards failed to follow proper legal procedures. That decision affected an estimated 9,000 undocumented young immigrants in Maryland.
"With this finding that the administration's decision-making is arbitrary and capricious, we hope our leaders realize that targeting DREAMers, asylum seekers, and TPS holders in racist and discriminatory actions will not be tolerated," the Capital Area Immigrants' Rights Coalition said.
"After three and a half years," Escobar of CASA said of ongoing battles with the administration, "we've learned that by reacting and giving Trump a lot of attention, we're feeding into exactly what he wants…giving him more credit than he's due, because we've been successfully reversing many of his policies in court."