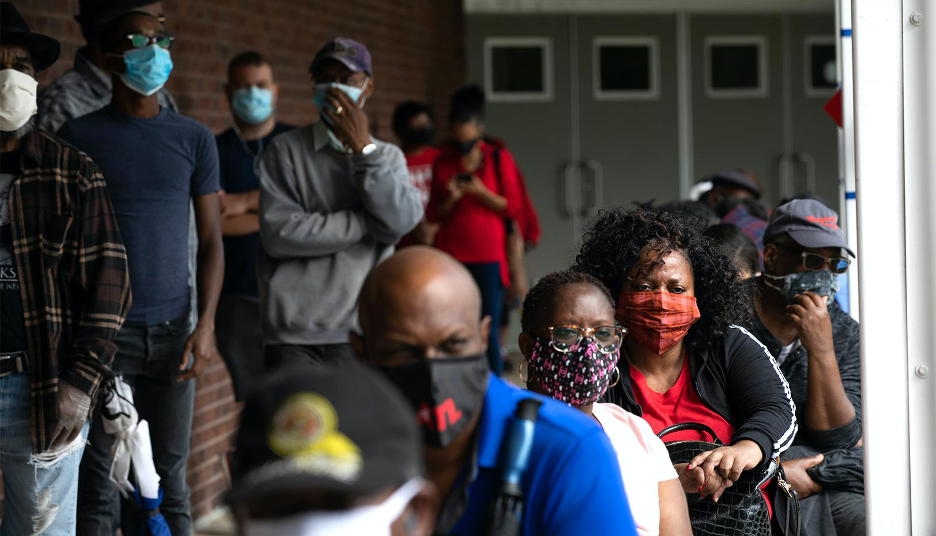 By Jalen Whitehead
In the 2020 presidential race, voter suppression has become a hot topic, especially in the Black community. But is voter suppression real and if so, what steps are being taken to fight it?
Voter suppression is defined as any effort, legal or illegal, by way of laws, administrative news, and/or tactics that prevent eligible voters from registering to vote or voting, according to demandthevote.com. Demand the Vote was born out of a meeting hosted by Beau Willimon's Action Group Network in 2016. Los Angeles locals came together after being concerned about the direction the country was taking after the 2016 election. They wanted to find out how they could help with dozens of critical issues such as immigration, criminal justice reform, climate change, reproductive rights, LGBTQIA equality, and voting rights.
According to Demand the Vote, voter suppression mostly originates from and benefits Republican candidates, and by extension, their donors. In an interview with Rick Hasen, a professor of political science at the University of California and expert on election law, he stated, "These [voter suppression] laws have been passed almost exclusively by Republican legislatures, likely out of the hope that a smaller, whiter electorate will help it stay in power."
People of color are more likely to be victims of voter suppression than white voters. In an interview with Kristen Clarke, a civil rights lawyer, president and executive director of the National Lawyers' Committee for Civil Rights Under Law, she stated, "Throughout our nation's history, Black voters have been subjected to voter suppression efforts and that remains true to this day." However, this does not just include ethnicity as other groups, such as women, the LGBT community, low-income, college-students, and others are also affected by voter suppression in the country.
Voter suppression takes many forms in the United States. The Voting Rights Alliance Organization states there are more than 50 different forms of voter suppression, including voter I.D. laws, limiting early voting, felony disenfranchisement, limiting poll locations and gerrymandering. Clarke said, "Some of the most prominent forms of voter suppression today include voter purge programs, efforts to shutter polling sites in communities of color and new restrictions making it harder for people to register to vote."
Long History of Suppression
The issue of voter suppression is not just a recent problem. In 1802, according to National Geographic, every free or slave state to join the Union banned Black people from voting. It stayed this way in most states until after 1865. In 1870, the 15th Amendment was introduced by Congress. This amendment prohibited denying a person to vote based on "race, color, or previous condition of servitude." That did not stop the states from keeping Black people and women from voting.
Over the years, many Southern states created restrictive laws, following the lead of Mississippi. These so-called Jim Crow laws, along with violence, would work together to suppress the Black vote. According to National Geographic, by 1892, Mississippi cut the percentage of Black men who were registered to vote from 90 percent to lower than 6 percent. For years this would be the norm, until the Voting Rights Act of 1965 was passed, prohibiting racial discrimination in voting. However, voter suppression did not end there.
In the past decade, according to the Brennan Center for Justice, states have passed new laws to keep citizens from voting. This was helped by a 2013 Supreme Court decision that struck down a key provision of the Voting Rights Act. States have introduced stricter voter identification requirements. The law requires that voters have government-issued identification to vote, with no other options for those who do not possess one. Supporters of this requirement defend it as necessary due to voter fraud.
ID Laws Hurt People of Color
However, according to the Brennan Center, study after study shows that fraud is rare. Some say the ID law should not be a problem because everyone should have an ID. The center found that this is not the case and affects people of color more; 25 percent of Black voting-age citizens are without a government-issued ID versus 8 percent of white people. In North Dakota, 19 percent of Native Americans did not have a qualifying ID to vote, versus 12 percent of all non-Native Americans. Since 2010, 25 states have placed new requirements for voting, including closing polling places, cutting back early voting and blocking voter registration, according to ABC News. These new requirements disproportionally affect people of color.
Georgia has been a key focus in the voter suppression fight, especially since the 2018 midterm election. In 2017, Georgia introduced the Exact Match Law, which required that voters' names on registration records match perfectly with their names on approved forms of identification. During 2018, approximately 80 percent of voters whose registration was blocked by the "Exact Match" law were people of color.
In the governor's race between Stacey Abrams and then-Secretary of State Brian Kemp, Kemp won but voter suppression played a role in his win, several sources said. According to The Guardian, three months before the election, more than 85,000 voters were purged under Kemp's changes to voting. Before that, in 2017, 668,000 voters were purged, according to the Atlanta Journal-Constitution. The Associated Press reported that Kemp stalled more than 50,000 registrations of Black voters due to alleged problems with their voter information.
Looking at the numbers, Bloomberg found that Gwinnett County has a 25.4 percent Black population, but 35.4 percent of the voter registrations that were stalled were African-Americans. Fulton County, which had the most voter registrations stalled, is about 44 percent Black, but 75 percent of the voter registrations stalled were Black as well. During this election period, Gwinnett was home to the most rejected absentee ballots. The county was responsible for 40 percent of all the rejected absentee ballots; 8 percent were African American and nearly 15 percent were Asian Americans, versus 2.5 percent of Whites' absentee ballots being rejected in the county.
Kemp, before this election, introduced the "use it or lose it" protocol. This would take citizens who have not voted in recent elections off the voting roll. In 2017 this protocol removed 506,000 Georgians from the voting rolls. Before the 2018 election, about 107,000 were removed as well. On Election Day in 2018, along with voting purges and rejected absentee ballots, long lines and malfunctioning machines were common. Most of this happened in the minority and Democratic-leaning counties, according to The Guardian. This would all lead to a victory for Kemp.
Atlanta Voters Wait Hours in Line
In the 2020 primary, similar problems arose. Hours-long waits, problems with new voting machines and a lack of available ballots affected the election process in Atlanta. In some cases, voting polls did not open on time and didn't for hours. In one neighborhood in Atlanta, citizens waited nearly 4 ½ hours to vote. North of Atlanta, in Roswell, a predominantly white city, citizens were in and out in about 20 minutes, according to NBC News.
According to The Conversation, hundreds of voters mostly in the Black community spent 4-6 hours waiting to vote. One location in a Black South Fulton community did not close until 12:37 a.m., 5 hours after it was supposed to close, due to many Black voters still in line.
The state sent out more than 7 million absentee ballot applications. Over a million were sent back, which was a record number, according to the New Yorker. This caused a backlog that resulted in some voters getting their ballot days before the election and some not receiving them at all. Some Georgia citizens were worried their ballots were not received by the state and proceeded to vote in person, the article said. Due to all the confusion, some voted twice. In other cases, some voters did not get to vote at all, even though they never received their ballot through the mail.
Secretary of State Brad Raffensperger, after the election, opened an investigation into how to solve these problems. Many organizations, including Abrams' Fair Fight organization, have become active in fighting voter suppression. Fair Fight said, "Like the poll taxes and literacy tests of the Jim Crow era, modern voter suppression efforts are relentless and effective."
The organization filed a civil rights lawsuit against the Georgia Secretary of State's Office and Georgia Board of Elections for mismanagement of the 2018 election. Fair Fight, along with other organizations including Black Voters Matter and Spread the Vote, are advocating for every person's vote to matter. They are helping people register and informing people about voting news while protesting, suing state officials, and fighting for the end of voter suppression.
Between the 2018 and 2020 primaries, nothing much changed, and adding the coronavirus made more problems, especially in Fulton County and other Black communities. Hasen, the UC professor, said, "Efforts to make it harder to register and vote have continued during the pandemic." According to CNN, Georgia removed nearly 200,000 people from voter rolls after wrongfully assuming the citizens moved or left the state. Add that with the long lines and malfunctions throughout the state, it was not too different from 2018.
However, for the general election, changes were made. Thirty early voting locations were open in Fulton County, versus eight locations during the 2020 primary, including State Farm Arena. The county hired 2,900 poll workers. There will also be an increase in Election Day voting polls, which will now be 255, and there will be about 40 absentee ballot drop-off locations.
However, there is still more to be done. Clarke said, "Since the pandemic alone, the Lawyers' Committee for Civil Rights Under Law has filed over 3 dozen voting rights lawsuits to safeguard access to the ballot."
Weakening the Voting Rights Act
But even more needs to be done. Clarke said, "In 2013, the U.S. Supreme Court issued a devastating decision in Shelby County, Alabama v. Holder which brought a core provision of the Voting Rights Act to a grinding halt — the Section 5 preclearance provision. Congress must act to restore the Voting Rights Act so that we can strengthen efforts to combat voter suppression in certain parts of the country."
Section 5 gave control to the federal government when deciding whether state voting laws were constitutional and not discriminatory. The pre-clearance provision kept the states in check. According to the Brennan Center, after the Supreme Court case, states immediately placed restrictions on voting, some of which would have or had already been blocked by the federal government.
Trump has already made clear his bias against mail-in voting, asserting that voter fraud will be the result. However, according to The Washington Post, data shows that out of 14.6 million votes, there were 372 possible voting fraud cases, or 0.0025 percent.
Hasen said, "The amount of voter fraud in the United States is rare, but it is not nonexistent. It is so low that it does not justify the kinds of serious efforts made to make it harder to register and vote."
Clarke agreed voter fraud is almost non-existent and added that the talk about voter fraud is "often used as a pretext to justify voter suppression measures that have tremendous impact on voters of color and low-income voters."
Georgia has been the epitome of voter suppression the last two elections. It seems most of the suppression happens in minority communities and Democratic counties. But it's not going unchecked. There are many organizations making efforts to fight it so that every single vote is accounted for.