By Monét Bowen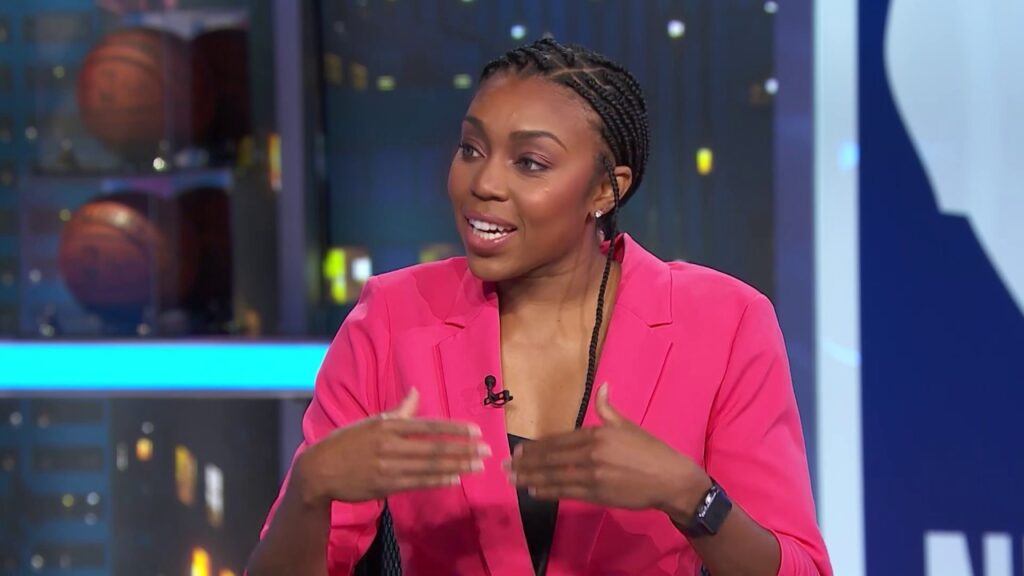 Layshia Clarendon remembered the way they were—the way she and other members of the Atlanta Dream WNBA team felt so connected to owner Kelly Loeffler, and seemed to bond with her on issues both personal and political.
Clarendon "shared meals with Kelly, stepped foot in her home…," she recalled, "introduced her to my wife and played my heart out for the team she owns with her cheering on the sidelines."
"I stood with pride as I watched her honor Stacey Abrams at center court, donate ticket sales to Planned Parenthood and roll out a Pride campaign that made me feel so seen," Clarendon wrote in The Undefeated last summer.
Then came Loeffler's letter to the league arguing against its plan for players to wear warm-ups that said "Black Lives Matter" on the front and "Say Her Name," in honor of Breonna Taylor, on the back.
"I adamantly oppose the Black Lives Matter political movement, which has advocated for the defunding of police, called for the removal of Jesus from churches and the disruption of the nuclear family structure, harbored anti-Semitic views, and promoted violence and destruction across the country," Loeffler wrote. "I believe it is totally misaligned with the values and goals of the WNBA and the Atlanta Dream, where we support tolerance and inclusion."
Renee Montgomery, who also had played for the Dream, responded.
"If you felt that way, why didn't you just say something earlier?" Montgomery asked aloud. "We know you're running as a Republican senator. For you not to be with Black Lives Matter, well, I mean, half our league, [the] majority of our league, is the Black and brown community. And so I'm thinking, why didn't you just say this before? Why are you writing this letter now?"
"Your comments hurt deeply," she wrote in an open letter, "because it was a veiled 'All Lives Matter' response. It's not that you're tone deaf to a cry for justice, but you seemingly oppose it."
Clarendon called betrayal. "I can't believe I ever stepped foot in Kelly's house and shared a meal with her," Clarendon said. "It's actually really hurtful to see her true colors. I had no idea while I played for ATL she felt this way. Happy to own us as long as we stay quiet and perform."
Kelly Loeffler no longer is an owner of the Dream; Renee Montgomery is, and she has become the first former WNBA player to be both an owner and a team executive. Loeffler lost her bid to win outright the U.S. Senate seat she had been appointed to earlier. Dream team members helped to make that happen by actively and outwardly supporting her opponents in the November and January elections.
And Montgomery has joined the ranks of other Black female athletes who, along with their male counterparts, are becoming more involved in owning and running sports teams, as well as other businesses that earn millions from their minds and bodies. As they do so, they are pressing corporate and cultural powers to pay more attention to financial, political and social issues they consider more important than sports.
Just last week, Simone Biles, the world's most decorated gymnast, signed a contract with Athleta, a division of Gap Inc., the nation's largest retailer of specialty clothing, to develop her own line of athleisurewear and to sponsor a Biles-led post Olympics exhibition tour.
The Biles Gold Over America Tour will compete for attention and revenues with USA Gymnastics, the sport's national governing body, which Biles has criticized for not doing more to protect young athletes like her from sexual abuse.
"I felt like it wasn't just about my achievements, it's about what I stood for and how they were going to help me use my voice and also be a voice for females and kids," Biles told The Wall Street Journal. "I feel like they also support me, not just as an athlete, but just as an individual outside of the gym and the change that I want to create, which is refreshing."
Premier ballerina Misty Copeland has been using her stature to emphasize the importance of body strength equally in sports and dance. Seven years ago, she entered into a partnership with Under Armour to produce a signature line of athleisurewear that has provided a critical boost to the company's bottom line.
In turn, the accompanying advertising and promotional campaigns have energized Copeland's crusade to empower Black women and girls here and abroad to overcome barriers that traditionally have kept them out of the president's office and the board room as well as off the stage because of their faces and their bodies.
The Black Lives Matter campaign and recent concerns over racial injustices jump-started her efforts. "This is the first time that I feel like I'm being heard. And that's big," Copeland told an interviewer recently.
Biles previously had been sponsored by Nike. In going to Athleta, she followed in the footsteps of sprinter Allyson Felix, also an Olympic medalist several times over, who ended ties with Nike after taking it to task for not strongly supporting women professionals like her while they were pregnant.
"We saw Allyson Felix leave Nike after expressing criticism for the ways she felt they treated women, and we have seen LeBron James take activism to new heights," Jon Solomon, editorial director of the Sports and Society Program at the Aspen Institute, told The Washington Post recently. "Increasingly, there is evidence as well that fans want the athletes and the teams they root for to believe in something more than just winning games."
Montgomery had been under contract to play for the Dream last season but chose instead to focus on social justice issues. During the hiatus, she said, James, former U-Conn star Diana Taurasi of the Phoenix Mercury and others schooled her to the importance of sports ownership.
James has a small but significant stake in the Fenway Sports Group, which makes him a part owner of the Boston Red Sox and adds to his shares in the Liverpool team of the Premier League and in Roush Fenway Racing, which sponsors two Ford Mustang teams that race in the NASCAR Cup Series.
"The limits athletes face became clear during the protest movement that swept through last summer. Team owners in the major North American men's sports talked a good game and contributed millions of dollars to causes backed by players," columnist Kurt Streeter wrote in The New York Times.
"But many of the same owners gave lavishly to President Donald J. Trump, who stood in direct opposition to everything the players were pushing for. Such double-dealing showed that the players might have had a megaphone, but money remains the language that packs the biggest punch."
Montgomery announced in early January that she had joined a group headed by former NFL running back Marshawn Lynch that owns the Beasts, one of four teams in the Fan-Controlled Football league that launched its premier season in February. The team was based in Atlanta and finished the indoor league's regular season in first place, but lost the post season championship contest.
Candace Parker, formerly of the WNBA's Los Angeles Sparks but now with the Chicago Sky, is one of 33 owners of an expansion team in the National Women's Soccer League that was born in part of the push to get equal pay for members of the women's national team, which over the past few years has performed better than the men's team in international competition.
Tennis star Serena Williams is also a member of the ownership group as are actresses Natalie Portman, Uzo Aduba, Eva Longoria and America Ferrera, as well as more than a dozen former members of the U.S. women's team.
The president of the team, to be known as Angel City and to start play next year, said the aim of the venture is to boost media coverage of the league, obtain new sponsorships, increase fan viewership and build strong revenue streams to bolster career opportunities and player incomes.
"It's our goal to have women's professional soccer players make a living only playing women's professional soccer," Julie Uhrman said.
"We've seen other athletes—mostly men—join ownership of sports teams in recent years," said Becca Roux, executive director of the United States Women's National Team Players Association, "but not so much women because they often didn't make enough money in their careers to buy into a sports franchise,"
Tennis star Naomi Osaka, who earned $37 million last year, more than any other female athlete ever, announced in January that she had become a part owner of the league's North Carolina Courage team.
"My investment in the North Carolina Courage is far beyond just being a team owner, it's an investment in amazing women who are role models and leaders in their fields and inspirations to all young female athletes," she said. "I also admire everything the Courage does for diversity and equality in the community, which I greatly look forward to supporting and driving forward."
Montgomery's path to sports ownership may have begun in college, where she played alongside Maya Moore on the on the University of Connecticut women's team that won the NCAA national championship in 2009.
Moore played in the WNBA for the Minnesota Lynx until 2018, when she announced that she instead would work to win the release of Jonathan Irons. An all-White St. Louis area jury convicted him on burglary charges and sentenced him to 50 years in prison for crimes Irons insisted he did not commit.
His conviction was overturned in March and he was released shortly thereafter, having served 22 years in prison. Moore was born in Jefferson City, Mo. and met Irons when she visited the correctional center there in 2007. The two now are husband and wife.
Moore's action inspired Montgomery, who announced last year that she would bypass the 2020 season to work on social justice issues. Loeffler's letter reinforced her decision. "I'm pretty sad to see that my own team ownership is not supportive of the movement and all that it stands for. I was already sitting out this season and this is an example of why," she Tweeted.
Montgomery's share of ownership in the Dream was not made public at the press conference announcing the purchase of the team. Larry Gottesdsiener, chairman of Northland, a real estate equity firm based in the Boston area, said only that he is the majority owner, along with minority owners that include Montgomery.
Montgomery spent most of her WNBA years playing for Minnesota's Lynx, the Connecticut Sun and the Seattle Storm; she joined the Dream in 2018. She said at the press conference that her off-court activism is based in part on being in Georgia, where Stacey Abrams almost was elected governor and Keisha Lance Bottoms is mayor of Atlanta, a city, she said, that is "full of powerful women, women that are leaders, leaders in management."
Terri Jackson, executive director of the Women's National Basketball Players Association, said she hopes the change in ownership will be good for the team, as well as for the town.
"It is time for the women of the Atlanta Dream and their fans to have an opportunity to heal and move forward," Jackson said in a statement when the new ownership introduced itself. "It is our fervent wish that we shall never see again such an abuse of power and arrogant display of privilege. It is our hope that no one will ever again attempt to use the players for individual political gain or favor. Those actions were unbelievably selfish, reckless and dangerous. And those who would conduct themselves in that manner have absolutely no place in our sport."