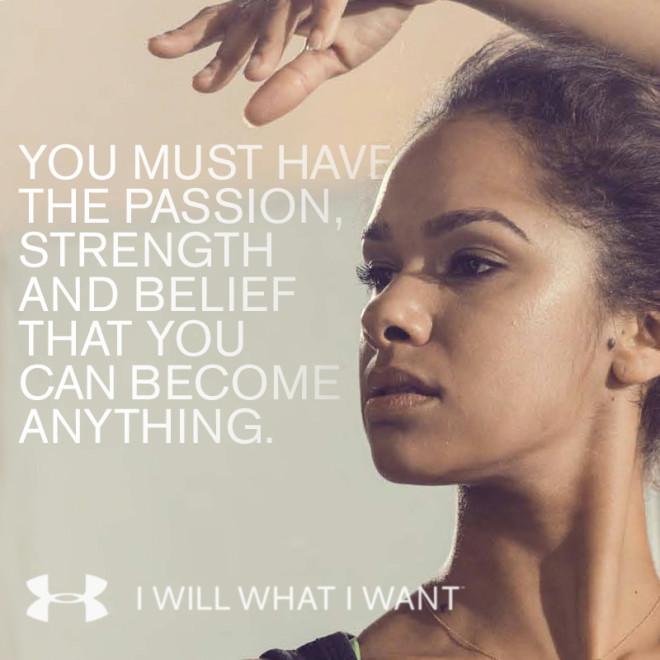 By Naomi Johnson
Misty Copeland, the premier ballerina, sees some potential good in the not so good moments.
"With George Floyd and with Black Lives Matter," Copeland said in a recent online interview, "in 20 years as a professional, though I've been saying these things very openly and publicly for 20 years, this is the first time that I feel like I'm being heard. And that's big,"
One of Copeland's previous big things was a campaign that blended the force and confidence of female athletes with her own poise and grace on stage to personify women empowerment and promote athleisurewear by sports outfitter Under Armour.
Copeland is pressing Black girls and women to model their hopes and aspirations after her own success, and not to believe what they too often are told: "You have to come from a certain level of, you know, class and society, and you have to look a certain way," she said in the interview
She has inspired a wave of Black dancers here and abroad, and unleashed a strain of Black Girl Magic trumpeted earlier this year in an ad for Nike, Under Armour's chief competitor, that is narrated by tennis icon Serena Williams and spotlights Black Brazilian ballerina Ingrid Silva.
"Across the globe, a legacy of young Black athletes are building strong communities in the unstoppable power of sports, moving arm in arm and step by step past any barrier we face," Williams proclaims. "This is the dance we do together, making our legacy as individuals, and defining our future as one."
In the process, Copeland also has helped to raise Under Armour's bottom line. Forbes reported that online dollar sales of the company's women's activewear apparel rose by 77 percent in the United States from January through May versus a year ago.
The initial Under Armour campaign, dubbed "I Will What I Want," debuted in 2014, inspired by the victories of women's movements in politics, business and sports during the first decade of the 21st century, and continuing in the years since.
"We saw that the marches were really centering on equality and opportunity and the celebration of women's achievements. It really reminded us that no matter how far we think we've gotten there still is this frame that women are being placed in," Adrienne Lofton, Under Armour's senior vice president of global brand management, explained to Teen Vogue.
"Success is, quite often, measured through comparison to what a male is doing," Lofton said. "We paused and asked ourselves how we could take them out of that frame and really allow them to create their own metrics without comparison."
The target audience was women under their own power who were successful with their own money, got things done by whatever means necessary, and who comfortably crowned themselves with any of the various hats they chose—or life called on them—to wear.
"It wasn't about featuring our biggest athletes," Lofton said. "It was about getting out the most diverse and interesting stories that could create this reframing of what success looks like when it comes to women as a whole, not just female athletes."
The campaign emphasized something in common between women in sport and dancers on stage—athletic bodies, an attribute not generally associated with classical ballerinas like Copeland.
Both Copeland and Williams are Black, and among the best, brightest and barrier breakers in their professions. That shouted out  'Yes, you can!' to a significant segment of the potential sportswear market: countless Black women and girls who had dreamed of or trained for success, only to be told that such could never be because of the shade of their skin, and more.
"When we think about ballet, we think about a certain shape of bodies. So you have arched feet, hyperextended legs, a small bum, a smaller chest. That's all supposedly 'the ballerina'," Benoit Swan Pouffer, artistic director of the London-based Rambert Dance Company, said in a recent video on Lee Bailey's EurWeb that focused on Copeland's impact on Black dancers. "But who says so? The people who created that. So it was something that was put on the table and nobody said, 'But why'?"
Africa-born Michaela DePrince, who dances with the Dutch National Ballet, said she always was told that her body "was not like the ballet type. Even close friends of mine that I've worked with in American Ballet Theatre…people just said, 'Why don't you just do modern'? But I love ballet. That's what makes me get up in the morning, and it fills my heart."
Salomé Pressac, a dancer with Rambert who was born in London, said that during her nearly two decades of preparation, "there were not Black ballet dancers that were training with me. I feel like I was the only one.
"It didn't really hit me until later on when I grew up, and I realized, 'Oh, maybe the reason why I didn't want to pursue ballet was because I didn't have any role models to look up to.' There wasn't really that many black ballerinas at the time, as well, to inspire me or make me feel like, 'Oh, this is a career path that I would want to take'."
Copeland, by her stature, prodded other changes in dance that had relied on the assumption that all ballerinas were and should be White. Companies cast off the old practice of white dancers performing certain roles in blackface make up. Dance tights of color have replaced many white-only's, and it's much easier to find ballet shoes in shades that coordinate better with darker hues of skin.
But sometimes, old habits die hard.
Not long ago, it was standard practice for performers to use a whitening makeup to affect a theatrical image of being ultra-white. This was especially the case in classical ballet, where uniformity of appearance is an artistic goal, and some dancers are cast as multiple make-believe, ghost-like embodiments of a single lead character—such as the "Swan princess," a leading role in the "Swan Lake" ballet.
Many companies here and abroad have abandoned that tradition as ballet dancers of color have become more common and racial sensitivities increased.
Just this month, however, Chloé Lopes Gomes, the sole Black woman dancer with Berlin's principal ballet company, complained about the time that her supervisor had ordered her to apply white pancake makeup to her face, neck and upper body to dance in Swan Lake.
"She said to me everyone needs to powder their skin white to blend in. I told her I would never look White, I am Black. She just told me I'd simply need to use more powder," Lopes Gomes told The Guardian.
Without mentioning Lopes Gomes specifically, the Berlin company acknowledged a problem: "The racist and discriminatory behavior that was brought to light in our company deeply moves us and shows that the necessary skills and tools to deal with issues of discrimination need to be worked on thoroughly to instigate profound change."
Lopes Gomes, who's French and whose two-year contract with Staatsballett Berlin has expired and will not be renewed, said she hopes to catch on with another major classical ballet company.
"This has been my dream since I saw 'Swan Lake' when I was 8 years old," she told The New York Times. "At that time, everyone onstage was White. I would like to think it doesn't have to be like that anymore."