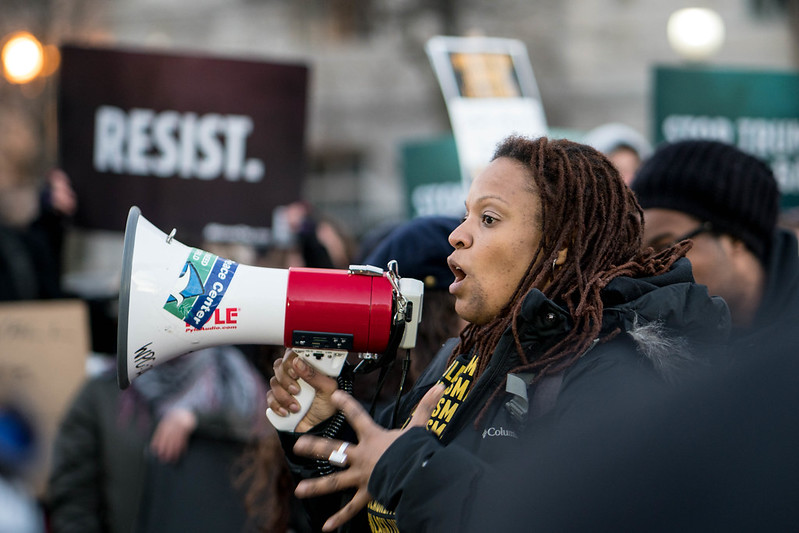 By Chrisleen Herard
The former vice president had barely clinched the Democratic nomination for president, and George Floyd hadn't been dead a month when Black conservative Candace Owens added her voice to a chorus of accusers.
"They are using Breonna Taylor's face and George Floyd's death to funnel MILLIONS to support Joe Biden's campaign. This is DESPICABLE," Owens posted on Instagram June 11. "The rioting and looting and chaos was meant to make white people feel guilty enough and black people feel angry enough to donate millions," she wrote.
"Breonna and George Floyd died so that Joe Biden could have more funds to go up against [President] Trump in the upcoming election," she said. "The celebrities were effectively pressured into getting their fans to pony up to the Joe Biden's election."
"They" referred to unnamed leaders of the Black Lives Matter movement, and the alleged ploy was a link on the organization's website that Owens and other Trump backers claimed secretly and illegally directed donations to the campaign coffers of Joseph R. Biden Jr.
Almost as quickly as Owens posted the accusation, it was discredited as neither a veiled Democratic fundraising scheme nor a violation of federal law. Owens went on to other matters, and Biden went on to a resounding victory.
The Black Lives Matter movement did well, too. Yet, as the year wound to a close, it faced criticism from a group of local organizers who challenged its allocation of funds and involvement in national politics—although not for the same reasons as Owens and the others had.
The latest disagreement, outlined in an early-December open letter posted by 10 local organizers, questioned whether those leading the protests have become unappreciated and underfunded bit players in a potent and lucrative national drama.
Some among the dissenters also said they fear that efforts by the movement's current leader to work with the incoming administration could undercut local efforts and misdirect the boots-on-the-ground energy into insufficient, piecemeal solutions.
"What [supporters] see is national folks talking about trying to get a meeting with Biden, while kids are literally outside of my door asking for food," April Goggans, a lead organizer of Black Lives Matters efforts in the District of Columbia and a co-signer of the complaint, told Politico.
"Chapters who we know, who we've been working with, who…do this work, have not been acknowledged or supported, yet you will find them talked about either on stage or in interviews on TV," Goggans said. "They might as well just be pictures on a fundraising brochure—we all might as well be."
Like Goggans, Chanelle Helm of Louisville, signed the open letter and was critical of the quest for a high-profile get-together.
"I'm not begging Biden, or [Vice President-elect Kamala D.] Harris, for any type of sit-down or meeting," Helm told Politico. "I'm trying to get my mayor out of his seat, because he keeps doing the same [stuff] he's doing."
"If I wanted to sit around and listen to a bumbling White man talk about Black people, I live in Kentucky, and I can do that on any corner out here in any rural bar stool," she told The Washington Post. "I just don't know what we would even get by meeting with him."
Politico reported that The Black Lives Matter Global Network, the official organization, said in an emailed statement that most of the 10 chapters were not affiliated with it and that the 10 were invoking the name of the movement to acquire credibility and raise money on their own.
In many ways, the current controversy is symptomatic of growing pains common to such movements.
Black Lives Matter had its humble beginning seven years ago as a hashtag among three Black women after George Zimmerman was found not guilty of killing Trayvon Martin in a Florida suburb.
It grew into a worldwide rallying cry for protests against the lack of accountability in the deaths of Black men and women, especially at the hands of police. By this spring, it had become an iconic branding on protest signs, T-shirts, face masks, buildings and city streets
Four Minneapolis police officers killed Floyd in May, and at the same time, protestors in Louisville were taking to the streets day after day, clamoring for an explanation of why no one had been held responsible for Taylor's death during a police raid on her apartment in March. The movement was garnering unprecedented attention and millions were being donated to its cause.
Black Lives Matter was developing a formal organizational structure, but had not yet obtained Internal Revenue Service nonprofit certification for its charity, the Black Lives Matter Global Network Foundation. In the meantime, it was using the charity arm of ActBlue, an established and admittedly Democratic-leaning nonprofit, to accept donations on its behalf.
"Every dollar raised on ActBlue Charities for Black Lives Matter Global Network Foundation has been sent to Black Lives Matter Global Network Foundation," Morgan Hill, the ActBlue communications director, said in an interview.
"ActBlue Charities properly reports all charitable fundraising to the IRS…When you donate on an ActBlue Charities page, the donation is earmarked for the group listed on the form," Hill said. "We pass along the contribution directly to the receiving group. We do not choose the recipient of the contribution, the donor does."
By the time the movement received the windfall of public notoriety and financial support, Patrisse Cullors was the only one of its three founders still actively involved in leadership of the organization.
Cullors became the foundation's executive director in July, saying in a seventh anniversary message two months later that she had "assumed" the position with some "trepidation initially" because even though she felt "no one was better-prepared for the job" than she was, "there were other voices to overcome." She did not elaborate on the "other voices."
She praised "the immense power of our grassroots apparatus" as "the hallmark of Black Lives Matters' successes to date," and said that "an assembly" of chapters had "come together…to build Black Lives Matter Grassroots (BLM), a space to help the movements' organizing flourish."
"One of my goals as Executive Director of the Global Network Foundation," Cullors said, "is to ensure BLM Grassroots has the tools and resources it needs to strengthen our movement on-the-ground."
A month after the Nov. 3 election, the 10 chapters issued a statement that challenged her legitimacy as executive director, and contended that BLM Grassroots had been set up "against the will of most chapters and without their knowledge" and "does not have the support of …the vast majority of chapters."
"To the best of our knowledge," the posting read, "most chapters have received little or no financial support from [the global neatwork] since the launch in 2013. It was only in the last few months that selected chapters appear to have been invited to apply for a $500,000 grant with resources generated because of the organizing labor of chapters. This is not the equity and financial accountability we deserve."
For his part, Biden asserted in a fall campaign ad that he supported "Black Lives Matter. Period," but he also emphasized he was not an advocate to "defund the police," a phrase that some racial justice advocates and Black Lives Matter activists use to encourage a range of changes in policing.
That, along with his more centrist approach to governing, has prompted some activists and more progressive Democrats to fear that once in office, Biden may press for moderate versions of policies and programs they contend need more radical solutions.
As a Senator, Biden also played a key role in crafting the 1994 federal crime bill. Critics contend that the measure was an integral element in policies that resulted in higher incarceration rates and more time behind bars for Black offenders.
"Biden tries to deflect criticism that the 1994 crime bill contributed to an increase in incarceration by pinning the blame on states for building more prisons and passing tougher laws" The Washington Post's 'Fact-Checker' reported last year.
"But the federal law set the tone—and the bill he crafted included incentives for states to overhaul their laws and build more prisons. There are many factors that contributed to the United States having such a high incarceration rate, but few dispute the crime bill was a contributor."