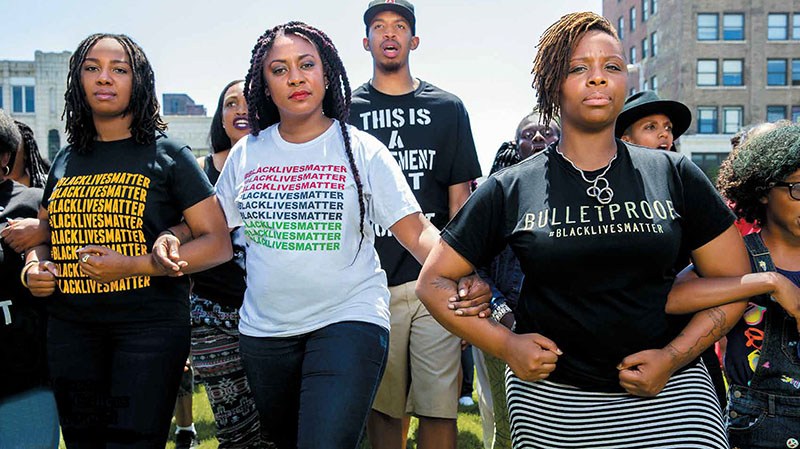 By Arielle Williams
Some in Hollywood have launched very personalized initiatives in response to the movements for women's empowerment, social justice and Black Lives Matter by focusing on crimes of racial and sexual violence against Black women, including women in LGBTQ communities.
The actions often are more individualized than sweeping, shaped in part by how the person identifies with the objectives of the three movements—which share concerns about discrimination and inclusion, but also have divisions in their own ranks.
Multitudes of women, for instance, have had groundbreaking political success, and the feminist movement gained tremendous support and moral capital from the fallout over Hollywood mogul Harvey Weinstein's convictions on sexual assault charges.
But there remains friction between White feminists and those of color who often have felt marginalized in the movement, even as Black women have been acknowledged as an essential voting block that has lifted women into positions of greater influence and power.
Many Black activists also don't want it forgotten that it was a Black woman in Brooklyn who started the #MeToo movement that the Weinstein controversy invigorated; that Black girls and women are more likely than Whites to be victims of sexual violence and workplace harassment; and that most of the transgender women killed each year are Black.
Personifying the mixed motives at the heart of some of the initiatives are the three Black women who founded the Black Lives Matter movement seven years ago: Opal Tometi, a self-described "transnational feminist;" Alicia Garza, a lesbian; and Patrisse Cullors, who is queer and was a staff writer for a television drama series.
"Patrisse and I and Opal have been very clear from the beginning that it's all of us or none of us," Garza said in "Not Done: Women Remaking America," a documentary on the contemporary women's movement broadcast on PBS in October. "Black women, black queer and trans folks are disproportionately impacted by the criminal justice system, by policing, by issues of safety, violence, and harm."
Raquel Willis, a trans activist who also is spotlighted in the documentary, said the diverse crowds of thousands who have marched in support of Black Lives Matter have buoyed her outlook on the future.
"Even within the feminist movement there has been a history of exclusion of Black women, trans women, lesbians and queer women, disabled women," Willis said. "You know, Susan B. Anthony, Elizabeth Cady Stanton were White supremacist as hell, but the power of feminism is for it to constantly evolve and be expansionist.
"Black trans women in particular give us windows of possibility…And what continues to give me faith is the young folks on the street. The connections between various movements [are] quicker than older generations have been able to."
The documentary shows Willis speaking to a crowd in Brooklyn where thousands gathered in June for Black Trans Lives Matter rallies there and in Boston, Chicago and Los Angeles. They were protesting the killings of transgender women in Cincinnati and Philadelphia, and the shooting of a transgender man by a Tallahassee police officer.
Nine of every 10 trans and gender non-conforming people reported killed in 2019 were Black women, and 8 of every 10 were under the age of 30, according to the Human Rights Campaign, which tracks such killings.
Award-winning Black actress and director Regina King, one of Vogue magazine's 2020 Women of the Year, said the protests have resonated with her, especially those that involved "people in Asian countries with their masks on with Black Lives Matter signs." For so long, King told Soraya Nadia McDonald, many folks have been too focused on themselves.
"I've been guilty for it in some spaces in life, because you're just trying to get your thing going that you're not paying attention to what's going on around. But [now] it feels like people are paying attention," King said. "I don't think that if we weren't in the middle of corona when that happened, I don't think the world would've been paying attention."
Others in Hollywood have found different ways to respond.
The Daily Mail reported in September, for example, that Meaghan Markle, the Duchess of Sussex and a former actress, was contemplating a documentary on Cullors—who, like Markle, is a native-born Los Angelina—under a multi-million dollar contract that she and her husband, Prince Harry, have with Netflix.
"Cullors is said to have 'hugely inspired Meghan, and she pitched the documentary to Netflix because she has been 'blown away by the incredible work Patrisse has done…She thinks her story needs to be told—and she would love to be the one to make it,' a source told The Mirror," a British tabloid.
And actress Halle Berry recently said that she had been convinced not to take a role that she had been contemplating in which she would have portrayed a transgender man, CNN reported. "As a cisgender woman," Berry tweeted, "I now understand that I should not have considered the role, and that the transgender community should undeniably have the opportunity to tell their own stories."
In October, Cullors herself announced that under terms of a wide-ranging partnership with the Warner Bros. Television Group, she would develop and produce original programming for various platforms aimed at audiences of all types. She previously had been a staff writer for the "Good Trouble " television drama series.
"Black voices, especially Black voices who have been historically marginalized, are important and integral to today's storytelling," Cullors said. "Our perspective and amplification is necessary and vital to helping shape a new narrative for our families and communities. I am committed to uplifting these stories."
The #MeToo movement was launched more than a decade ago by Tarana Burke, a Black Brooklyn activist, who hoped to encourage survivors of sexual abuse to share their stories.
It became a nationwide rallying cry in 2017, after The New York Times and The New Yorker reported allegations against Weinstein by the first of dozens of women, most of whom were White.
On the first day of 2018, Hollywood celebrities announced the Time's Up campaign. Providing legal support for low-income women who were targets of sexual harassment in and out of the workplace, and calling out companies that did not move swiftly to end such actions were among its primary goals.
It also sought to get more women into influential positions in talent agencies and studios—roles that Weinstein was in when he was alleged to have regularly preyed upon women hoping to rise in the industry.
Gale Anne Hurd, producer of "The Walking Dead" television series, said Black Lives Matter had more impact than #MeToo on the way many did business in Hollywood.
"#MeToo has some significance, but a lot of women were still afraid to tell stories of on-set discrimination and the casting couch. The Black Lives Matter movement is a game-changer for all minorities and people with different genders," she told Variety in October.
Salamishah Tillet, a professor at Rutgers University-Newark, said there were particular lessons for Black men and women in the Weinstein controversy.
"[O]ne of our nation's most pernicious and enduring racial stereotypes" was that of "the black male rapist," she wrote in an opinion article in The New York Times. "This myth, born in the 19th century, worked to prohibit consensual sexual liaisons between white women and black men on one hand, and was used to justify the widespread lynching of black men on the other hand, by white mobs who falsely asserted their black male victims raped white women…
"And the stereotype of the black male rapist has also intimidated black women who were assaulted by African-American men into silence out of fear of being labeled race traitors, or, worse yet, of being seen as complicit with a criminal justice system that disproportionately incarcerated black men."