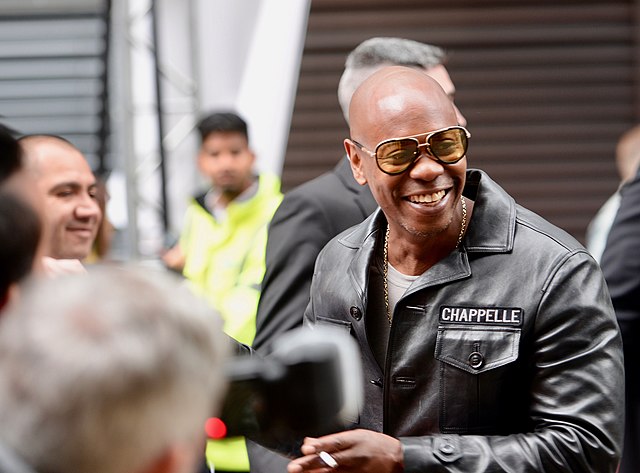 By Chanel Cain
This homecoming was extra special. It would not be the first time comedian Dave Chappelle would come back to Duke Ellington School of the Arts in Washington, which had put him on the path to success and stardom. He'd returned before, often bringing along financial support and celebrities to inspire others as the school had inspired him.
This occasion, two days before Thanksgiving, would cap a $1.5 million fundraising drive for the D,C. public school—one of the few arts schools where most of the students are of color. And what's more, an auditorium in the school would be named in his honor. Chappelle had promised to personally donate $100,000.
Tia Powell Harris, a former artistic affairs director at Ellington, said this was all so typical of Dave Chappelle, and of the school, too.
"Pretty much as soon as he graduated from Ellington [in 1991] and went out into the professional world full time, he never forgot the training he got at Ellington, and was committed to supporting the school in whatever way necessary," Harris said in an interview.
But then came the premier of "The Closer," Chappelle's latest special for Netflix. The immediate reviews were troublesome.
In what some perceived as a comeback commentary, Chappelle seemed to double down in defense of previous things he had said that offended LGBTQ communities, especially transgender individuals; and he accused the critics of being thin-skinned, with racial overtones.
"In our country you can shoot and kill a n***** but you better not hurt a gay person. And this is precisely the disparity that I wish to discuss," he said at one point in the special, characteristically throwing in the racial slur.
Chappelle said he sided with anti-trans radical feminists, and bragged about beating up a lesbian he approached in a club who later wanted to sell the story to TMZ, saying he had "whupped the toxic masculinity out of that b****."
GLAAD, the gay and lesbian anti-defamation organization, posted a harsh rejoinder.
"Dave Chappelle's brand has become synonymous with ridiculing trans people and other marginalized communities," GLAAD tweeted. "Negative reviews and viewers loudly condemning his latest special is a message to the industry that audiences don't support platforming anti-LGBTQ diatribes. We agree."
The National Black Justice Coalition, an LGBTQ+-oriented civil rights advocacy organization, called on Netflix to drop the special from its offerings. (Netflix did not.)
"With 2021 on track to be the deadliest year on record for transgender people in the United States—the majority of whom are Black transgender people—Netflix should know better. Perpetuating transphobia perpetuates violence," David Johns, the group's executive director, said in a statement.
Chappelle said he was standing down on the issue: "All I ask of your community, with humility, will you please stop punching down on my people?" Chappelle said. "Empathy is not gay. Empathy is not black. Empathy is bisexual—it must go both ways."
The writer and social commentator Roxane Gay, herself Black and bisexual, called him out.
"At the end of his special, Mr. Chappelle admonishes the LGBTQ community one last time, imploring us to leave his 'people' alone," she wrote in an opinion article in The New York Times.
"If it wasn't clear from his words, the snapshots of him with his famous pals in the closing credits of "The Closer" make it abundantly clear that Dave Chappelle's people aren't men or women or Black people. His people are wealthy celebrities, and he resents even the possibility of them facing consequences for their actions."
Students, parents and others in the Ellington school family were divided by the special and the reaction to it. Some students had said they might stage a protest if the naming of the auditorium went ahead as planned. The school postponed the event until April, but put a positive face on the turmoil that had ensued.
"Although it appears that the clear majority of the students at Ellington favor naming the theater for Dave Chappelle, we are seizing this moment to demonstrate the importance of carefully listening to every voice within our diverse and inclusive community," the school said when it announced the delay.
"Ellington's mission is to nurture and develop artist citizens," the announcement read. "In light of this, Ellington has expanded its social studies to respond to the ever-changing social climate and relies heavily on our ability to incorporate real-life experiences into teachable moments."
Artistically, Roxane Gay critiqued, some parts of Chappelle's special were underwhelming.
"The self-proclaimed 'GOAT' (greatest of all time) of stand-up [comedy] delivers five or six lucid moments of brilliance, surrounded by a joyless tirade of incoherent and seething rage, misogyny, homophobia and transphobia," she wrote. "He reaches for every low-hanging piece of fruit and munches on it gratuitously," Gay said.
But she did not dismiss Chappelle's talk of race.
"Somewhere, buried in the nonsense, is an interesting and accurate observation about the white gay community being able to claim whiteness at will," she wrote. "There's a compelling observation about the relatively significant progress the LGBTQ community has made, while progress toward racial equity has been much slower.
"But in these formulations, there are no gay Black people. Mr. Chapelle pits people from different marginalized groups against one another, callously suggesting that trans people are performing the gender equivalent of blackface."
NPR television critic Eric Deggans offered props for Chappelle's trademark style. "He makes a sport of challenging his audience—putting ideas in front of them that he knows are uncomfortable and unpalatable to those invested in modern notions of how to talk about feminism, gender, sexual orientation and race," Deggans wrote.
On the one, hand, he said, "The message Chappelle has for those who have criticized him about transphobic, homophobic or any other phobic jokes seems to be: Race trumps all." Yet, "too often in 'The Closer,' it just sounds like Chappelle is using white privilege to excuse his own homophobia and transphobia."
Chappelle assumes "that the struggle over oppression is a zero-sum game—that because some gay people have access to white privilege in America, all their concerns about stereotyping and marginalization are hollow and subordinate to what Black people face," Deggans wrote.
"It ignores the fact that there ae plenty of nonwhite gay people who face oppression for both their sexual orientation and their race. And, of course, opposing these public statements of homophobia isn't just about making gay people feel better; it's about keeping the anger and prejudice behind those words from becoming widely acceptable or turning into action."
Earle D. Fowlkes Jr., president of the Center for Black Equity in D.C. and a former chairman of the D.C. Commission on Human Rights, seemed to agree.
"There are certain lines that keep being redrawn every generation, it seem, but when it comes to certain populations, they're never excluded, they never get past the benchmark," Fowlkes said in an interview. "It seems like transgender individuals and LGBTQ+ individuals, you can always make a joke about them, it never gets tired, and this is not new," he said.
"That poses a dilemma for those of us who are [LGBTQ] because it illustrates that mainstream America, particularly in the African American community, thinks that we are in two different communities, and that we choose the communities to be in," Fowlkes said, "If you're gay, you're not in the Black community. If you're Black, you're not in the gay community."
D. Kevin McNeir, senior editor at The Washington Informer weekly newspaper and a self-identified "same-gender-loving man of color," said he was not offended by what Chappelle said in the Netflix special. "I have often found myself being unfairly critical of the "T" within the LGBTQ community," McNair wrote in an editor's column.
"My criticism, I hate to say, has been fueled mostly because I cannot understand why those who make up the transgender community would go through so much pain and oppression because of how they feel inside," he said.
"But I've had my own pain to address and hurdles to overcome. In addition, I'm still dealing with male privilege notions and my own prejudice. This is my truth and my cross to bear."
On the originally appointed day, Chappelle came to Ellington; nearly 600 students attended a non-compulsory assembly where he took questions and a camera crew that accompanied him plied their trade. Unidentified students interviewed afterwards told reporters that the comedian seemed not necessarily apologetic about the controversy he had stirred.
His job was a tough one, he told one questioner: "My friend, with all due respect, I don't believe you could make one of the decisions I have to make on a given day."
He seemed a bit boastful: "I'm better than every instrumentalist, artist, no matter what art you do in this school, right now, I'm better than all of you. I'm sure that will change. I'm sure you'll be household names soon."
Andrew Wilson, a 16-year-old sophomore, didn't appreciate one particular response. "One of the kids was explaining to him that [in "The Closer"] he misgendered someone multiple times, and as she was going to explain the effects of that, he interrupted her and said, 'What even is misgendering?' making sort of a joke about it," Wilson told The Washington Post.
"It was strange to me because he was asking for our opinions, and then when we gave our opinions, he just shut us down," 15-year-old sophomore Seneca Green told The Post. "There was a very big power imbalance of him just talking down to us, and just being really rude to us. It just did not feel like a very welcome environment."
Chappelle spokesperson Carla Sims confirmed the students' recollections and noted that Chapelle had raised hundreds of thousands of dollars for Ellington. "They are complaining that he talked and said the n-word. If anything, Dave is putting the school on the map," Sims told POLITICO.
Harris, the former Ellington artistic affairs director, was optimistic that much could be learned from the entire episode.
"It's a difficult controversy; it's one that future artists who attend the school will benefit from walking through this, as an alum of the school is doing along with them," she said. "And so it's a growing opportunity, I think not only for the students, for the school administration, but also probably for Dave."
Washington Informer editor McNeir also was hopeful. "Maya Angelou once said in a poem that I reference over and over again, 'Human Family,' that 'we're more alike than unalike.' And indeed, we are," he wrote.
"So, in his honest attempts to better understand a segment within the human family, the transgender community, Chappelle revealed his own humanity and willingness to become a better person—a man in [search]of gaining greater empathy for others. What more could we want than that?"