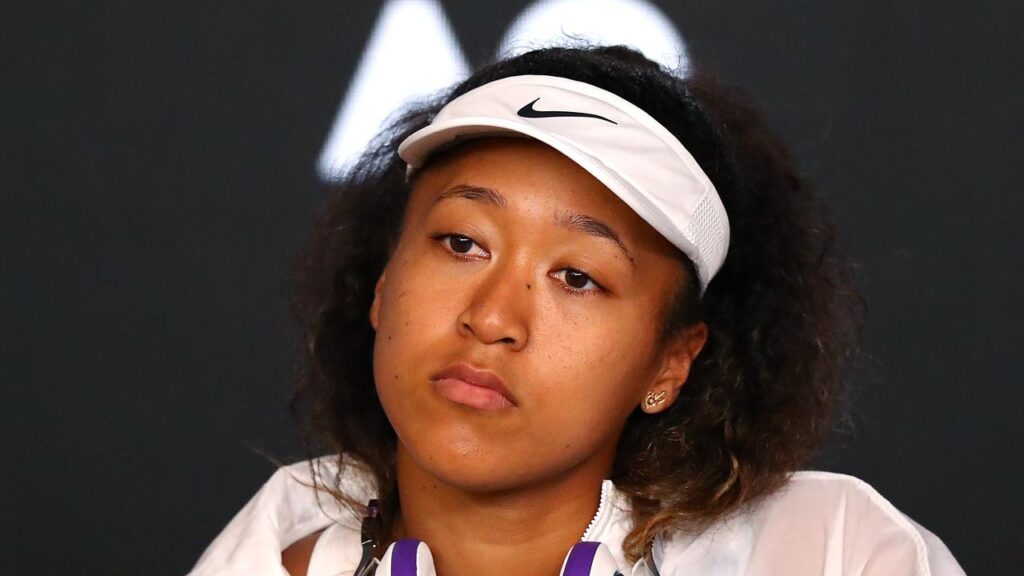 By Janáe Bradford
Naomi Osaka seemed to sense that the optics were unsettling, and out of character. She was a top-ranked professional tennis player still a month before her 24th birthday, and she already had earned more money in one year than any woman athlete in history.
Yet, there she'd been for all to see: banging her racket to the ground, once and again; seeming to be just pouting as she lost point after point in an early round match at the U.S. Open last September in New York.
"Yeah, I'm really sorry about that," she told reporters after the loss, which eliminated her from a tournament she'd won two of the previous three years. "I'm not really sure why…I was telling myself to be calm, but I feel like maybe that was a boiling point.
"I like challenges, but recently I feel very anxious when things don't go my way, and I feel you can feel that. I'm not really sure why it happens the way it happens now…You can kind of see that I was acting like a child."
It was an awkward and teary moment. Only months before at the French Open, she had drawn controversy and a $15,000 fine for refusing to submit to such post-match encounters with the press. And now, as she began to appear uncomfortable, someone suggested ending the session.
"No," she said. "I kind of want to finish this, though. This is very hard to articulate. Well basically, I feel like I'm kind of at this point where I'm trying to figure out what I want to do."
At the beginning of the year, Osaka had won the Australian Open. She had not done well at the next two Grand Slams, dropping out of the French in May and passing up the Wimbledon championships a month later. In both instances, she cited mental health as her nemesis. Critics suggested that was simply an excuse for underperforming. She said they didn't understand.
"I've often felt that people have no regard for athletes mental health and this rings very true whenever I see a press conference or partake in one," she had tweeted as she announced her withdrawal in Paris..
"I've watched many clips of athletes breaking down after a loss in the press room and I know you have as well," she said. "I believe that whole situation is kicking a person while they're down and I don't understand the reasoning behind it,"
As she exited the U.S. Open, she apparently had decided it was time to better understand the reasoning behind herself:
"I feel like for me recently, like when I win, I don't feel happy. I feel more like a relief. And then when I lose, I feel very sad. I don't think that's normal. …Basically I feel like I'm kind of at this point where I'm trying to figure out what I want to do. I honestly don't know when I'm going to play my next tennis match. I'm sorry."
Some sportswriters said her issues were nothing unique. Matthew Futterman of The New York Times was among them.
"While Osaka's misery is her own—like the unhappiness of the unhappy families Tolstoy refers to at the start of Anna Karenina—tennis has seen this movie so many times before that an unavoidable question arises: What is it about this sport that makes so many of the best players in the world, a collection of athletes seemingly swaddled in wealth and fame and glory, so intolerably miserable?" he wrote.
Mardy Fish, a former world No. 1 who is 15 years older than Osaka and stopped competing a little while ago, sprang to her defense.
"To educate is really the most important thing," Fish told Times columnist Christopher Clarey. "To try to reach people that have never understood mental health or had issues with it or people around them who have had issues with it.
"To just educate them and just understand that Naomi Osaka is not going to pull out of the French Open just because she doesn't want to talk to the press. And Simone Biles is not going to compete in the Olympics just because she doesn't want to lose. The people that think that, and there are lots of them, it's just unfortunate."
It goes with the game, Fish asserted: "It's just health. They call it mental health, but your brain is part of your body. It's an injury. You just can't see it."
In so many ways, Osaka's own words may best describe her journey from where she has been to where she was on court that day at the U.S. Open.
Naomi Osaka had burst into the spotlight of world tennis three years earlier, defeating Serena Williams at the 2018 U.S. Open. That victory made her the first Japanese woman to win a prestigious tennis Grand Slam title.
What made her somewhat special off the court was who she is as a person. She is proudly of mixed race; her father is Haitian, and her mother, Japanese. She also is multinational, but in international competition, she represents Japan, where she was born.
Her mother, Tamaki, was born there, too, and grew up in a coastal town on the northern island of Hokkaido, but went to school in Sapporo, the island's capital city. When Tamaki's father broached the possibility of a traditional arranged marriage, the daughter told him that she already was dating someone, a Black man. The dad told her that was disgraceful to his family.
In time, the man, Leonard Maxime Francois, found work in Osaka. He and Tamaki moved there, and had two children, Naomi and her sister, Mari. Rather than using their father's surname, they took the name of the city as their own, making it easier to enroll in school and move about as the offspring of a darker skinned, non-Japanese man.
Naomi later would joke about living with an adopted family name. "Everyone who was born in Osaka, their last name is Osaka," she told reporters on one occasion.
Her tennis-learning years were on courts in New York City and in Florida, but she was uncertain about how to identify herself as a person. "I don't necessarily feel like I'm American. I wouldn't know what that feels like," she told the magazine interviewer.
Her bloodline was biracial; but she also was tricultural.
"My dad's Haitian, so I grew up in a Haitian household in New York. I lived with my grandma. And my mom's Japanese and I grew up with the Japanese culture too, and if you're saying American, I guess because I lived in America, I also have that too…I hope I answered your question. I don't know," she told reporters in 2018.
Osaka's darker complexion is not the only thing about her that is not typically Japanese. At five-foot-eleven, she is taller than most Japanese women tennis players. And her game, unlike theirs, is not one of finesse.
"She has some of the purest power in the game, a serve that she can use to dictate points and a whipping forehand swing that generates phenomenal racket head speed. Even as a 16-year-old, she'd clocked forehands over a hundred miles an hour," Louisa Thomas wrote for the tennis quarterly Racquet.
"Everything about Naomi breaks the mold," Kenshi Fukuhara, a producer with the Japanese television station Wowow, told a New York Times magazine writer. "Physically, she's so much more powerful than other Japanese players. She looks more like Serena, but she's very Japanese inside."
Osaka's victory over Williams at the 2018 U.S. Open was a young tennis player's dream come true. Yet, it was "a little bittersweet," she said afterwards. "It wasn't necessarily the happiest moment for me," she said.
"Of course I'm happy that I won a Grand Slam, I don't think there's anything that can take away from that, but I feel like it was so strange," she told reporters.
"Right after, the day after, I really didn't think about it because it wasn't necessarily the happiest moment for me," she said. "I just sort of wanted to move on at that point."
The match had been marred several times when the umpire made questionable calls and imposed penalties on Williams. Although none clearly reversed what many observers thought was a contest going Osaka's way, the decidedly pro-Williams crowd booed the umpire's actions, and Williams later accused him of taking the match away from her with rulings that would never have been made against a male player.
Four months later, Osaka won the Australian Open, her second Grand Slam title. She would not win another that year, and most of the following year was hampered by the impact of the coronavirus pandemic.
But that was also the year that the murder of George Floyd arrested the attention of the world, injecting new energy into the Black Lives Matter movement. Young Black athletes of all types and all genders felt the hurt, as did Osaka, who visited the street corner where a White Minneapolis police officer had strangled Floyd to death.
At about the same time, she had begun to clarify her ethnic identity, and to ponder publicly what her life on court had to do with things that were happening off it.
"I'm Asian. I'm Black, and I'm female. …I support the movement to defund the police," she wrote in Esquire magazine, explaining why'd she'd gone to Minneapolis.
"By that, I don't necessarily mean to eradicate them altogether. Some of their funding—like payment plans to cops who have been convicted of crimes—would be re-allocated to social measures within the community. Education, housing and youth programs, which are so often neglected. We need to take a holistic approach to our communities and to keeping each other safe."
And she recalled another Black life lost.
"I remember Trayvon [Martin's] death clearly," Osaka tweeted after winning the U.S. Open for the second time in September of last year. "I remember being a kid and just feeling scared. I know his death wasn't the first but for me it was the one that opened my eyes to what was going on. To see the same things happening over and over still is sad. Things have to change."
Trayvon Martin and Naomi Osaka were less than three years apart in age.
During the tournament, she had worn face masks with the names of Black folks killed by police, a different name each day as she progressed from the first to the championship round.
"You had seven matches, seven masks, seven names," an ESPN reporter asked her afterwards. "What was the message you wanted to send?"
She responded: "Well, what was the message you got, is more the question? I feel like the point was to make people start talking."
"Before I am an athlete, I am a black woman. And as a black woman I feel as though there are much more important matters at hand that need immediate attention, rather than watching me play tennis," Osaka had said in a statement posted in both English and Japanese when she had declined to play a match immediately after the police shooting of Jacob Blake in Kenosha, Wisconsin days before the Open began.
"Watching the continued genocide of Black people at the hands of the police is honestly making me sick to my stomach," she wrote. "I'm exhausted of having a new hashtag pop up every few days and I'm extremely tired of having this same conversation over and over again. When will it ever be enough?"
True to her native land, Osaka chose to play for Japan in the Tokyo Olympics, and the nation bestowed two special honors upon her. She would lead its delegation into the stadium for the opening ceremony, bearing the Japanese flag along with Rui Hachimura, the up and coming star of the NBA Washington Wizards. Like her, he was of mixed race; his mother, Japanese, his father, from Benin in West Africa.
But Osaka also was chosen to light the Olympic flame, ending a transcontinental journey of the ever-burning torch from the last previous games in Brazil to inaugurate the 2020 games in Tokyo, delayed a year by the impact of the pandemic.
The last time Japan had hosted an Olympics was in 1998, when the winter games were held in Nagano and Osaka was a year old. Midori Ito, a diminutive (4'9") figure skater, lit the flame.
Her hair was shoulder length and she wore an oversize sports jersey of the nation's colors, red and white. Osaka also wore a red-and-white sports top when she did the honor, and long black-and-red box braids that draped down her back almost to her waist.
For her, it seemed, it was an affirmation of who she was. For others in Japan, especially on social media, it was confirmation of what she was not.
"There have been lots of comments like: "Why is it her? She's not purely Japanese'," Lawrence Yoshitaka Shimoji, a sociology researcher at Ritsumeikan University in Kyoto, Japan, told The Washington Post in an interview in Japanese. "It's very sad. And as far as all of these mean, negative comments toward her, nothing is really being done about this; it's just out there."
Officially, all persons born in Japan are considered ethnic Japanese. Those born of mixed parentage, however, are referred to as "hafu," or half Japanese.
The phrase took on a more negative inference when the other half referred increasingly to a Black parent, especially after Ariana Miyamoto won the 2015 competition for Miss Universe Japan. She was born in Nagasaki to a Japanese woman and an African American man from Arkansas.
Even as Osaka was representing Japan at the summer games, the reigning Miss Universe Japan again was mixed race, Aisha Harumi Tochigi, a Ghanaian-Japanese model. Four of the 12 members of the men's basketball team were biracial, as was Ghanaian-born Stephanie Mawuli of the 3-on-3 basketball team, and sprinter Abdul Hakim Sani Brown, born in Fukuoka to a Japanese mother and Ghanaian father.
But "the Olympic concept of diversity and inclusion—actually the word we use in Japanese doesn't really mean 'inclusion," television producer Shimoji told The Post. "We use the word that means more like, harmony. And what harmony means here is more like assimilation, everyone being the same, one in harmony. So it's actually the opposite of what you're saying in English."
Baye McNeil, a Black New Yorker who's lived in Japan for 17 years and is a columnist for Japan Times, wasn't surprised by some of the reaction to Osaka's mental health concerns.
"I think people are really disappointed, and then they take into consideration how misrepresented that story about her mental illness was here in Japan," McNeil told The Post. "And also the bad press we got in Black Lives Matter during the U.S. Open [last year], put all that in the cauldron and what's going to come out? The negative stuff. And that's what I'm seeing now: the backlash of everything, not just her losing [in an early round] but just some negative feelings that have been around for a while."
As the tennis year wound to an end in November, Naomi Osaka had yet to announce how she was doing. USA Today columnist Alex Coffey's words on her September exit from the U.S. Open seemed still to ring true.
"Whether Osaka's depression and discomfort with the spotlight can ever be compatible with professional tennis is something only she can answer. Given her immense talent, let's hope so," he wrote then.
"But even if she never picks up a racket again, she's already secured her spot in a pretty select group of Grand Slam-winning women," he said. "She owes us absolutely nothing. If her ultimate decision is to move on to something else, we can only appreciate what she accomplished and hope there's something else that gives her happiness."
And something Osaka said earlier also seemed to have currency.
"I know I give my heart to everything I can and if that's not good enough for some then my apologies but I can't burden myself with those expectations anymore," she'd posted on Instagram in August. "Seeing everything that's going on in the world I feel like if I wake up in the morning that's a win."
"I guess what I'm trying to say," she said, "is that I'm gonna try to celebrate myself and my accomplishments more, I think we all should."