By: Summer Brown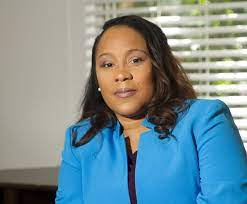 Fani Williams at conference. Photo Courtesy of The Atlanta Journal Constitution
Lovers of rap music worldwide are turning to the internet to share their opinions on the recent indictment of the Atlanta rap gang, YSL or Drug Rich Gang. RICO charges are being held against rappers including Gunna, Young Thug, Yak Gotti and more, for incriminating lyrics that have connected them to upwards of 20 crimes. These crimes include home invasions, kidnappings, and shootings.
Fulton County DA, Fani Willis, formally announced the charges on Aug. 29, and immediately began to receive backlash from fans and supporters of the gang's music. One tweet called the indictment an "unconstitutional violation of the first amendment". Comments on social media are also accusing Willis of working against Black men, and targeting them as opposed to white people who commit crime.
Despite the internet's opinion on Willis' recent decision to indict the gang, she stands firmly in her actions. Willis unapologetically addressed the public on her stance and how she will handle similar cases moving forward.
"I have some legal advice: Don't confess to crimes on rap lyrics if you don't want them used, or at least get out of my county," said Willis.
Based on the criminal activity collected by authorities, YSL/Drug Rich Gang has been a threat to Atlanta and surrounding areas for years. As District Attorney, it is the responsibility of Willis to work with law enforcement to reduce criminal behavior in her jurisdiction. In one case, a minor was involved and harmed. The consequences of this behavior is not based on skin color, it is based on wrongdoings.
Willis has also worked on other prominent cases to decrease the rates of illegal activity in Fulton County. As of late, Willis is investigating former US President, Donald Trump, and his attempts to overturn Georgia's 2020 election. Donld Trump is another man of high profile, who is not black. Further demonstrating that the work Willis does is not based on color.
Fulton County DA, Fani Willis, is not out to get Black Men of stature. Instead, she is a District Attorney that used substantial evidence published by gang members to formally indict them on their string of illegal activity.