By: Trinity Webster-Bass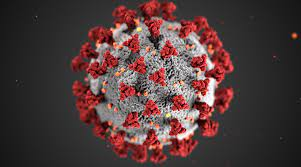 Coronavirus Visualization: A visualization of SARS COVID-19 which is the recent deadly strain of Coronavirus. Photo Courtesy of UNSPLASH.com
With the rise of social media, fake news, and biased reporting, there has been an increase in misinformation surrounding the spread of viruses. The past three years of our lives have been riddled with missed moments, sickness, and the loss of friends and family members. Yet, there was and still is a growing minority of people who believe that COVID-19 is not real. Furthermore, the resurgence of monkeypox cases has brought forth convoluted and misleading notions associated with the virus. In relation to these viruses, many Americans have succumbed to misinformation from social media, news media, and even trusted health organizations.
Businesses, companies, workplaces, and schools opening up with lax mask mandates and COVID-19 protocol presents the illusion that the world is back to normal and everyone can move on. Yet, people are still getting sick and new strains of the virus are emerging all across the world. The John Hopkins Coronavirus Resource Center indicates that the number of cases is steadily rising, and the United States makes up over 15% of existing cases globally. The pandemic has become widespread but also politicized, leaving no room for sympathy from those who choose to "opt-out" of the pandemic.
Posts on social media sites such as Facebook featured sentiments such as "estimated annual COVID-19 deaths in the U.S. totals 27,530 after you subtract those who died "with, not from" COVID-19, not in nursing homes and who didn't have four or more comorbidities."
Misleading and undeniably false statements downplayed the overall severity of this virus while undermining the work of health professionals. Not to mention the former president often refused to wear a facial covering.
Registered pharmacist Sapana Patel holds a bottle of monkeypox vaccine at a pop-up monkeypox vaccination site on Aug. 3, 2022, in West Hollywood, CA/AP. Photo Courtesy of UNSPLASH.com
Many news outlets and even the National Institute of Health have claimed that the Monkeypox virus should be thought of as a sexually transmitted disease most commonly spread through men who have sex with other men. However, this is not the case for all instances of contraction. False truths such as these have led to greater discrimination of certain populations.
Although President Biden declared the Monkeypox outbreak as a national health emergency, the public is still being fed inaccurate information on how the virus is contracted and what to do to stop the spread.