By: Jasper Smith, Badi Cross, Daniel Young, Victoria Greer
The Yard and Douglass Hall (Kennedi Armour/The Hilltop)
Customers who walk into Blue Nile Botanicals on Georgia Avenue are often met with the burning smell of sage and incense before being greeted by Ramon Thompson, who works behind the counter bagging and selling herbs, spices and other holistic remedies.
Thompson has spent the past six years as an employee at Blue Nile Botanicals, and has been a resident in the Howard-Shaw area for nearly 50 years. During his time as a resident and employee, Thompson has witnessed the many ways the business– and customers– have changed, from what he feels is a result of gentrification in the area. Gentrification which some residents feel that Howard University is contributing to.
"We are the last of what was left. We had black bookstores, grocery stores, laundromats, you name it. You didn't have to go anywhere else. You didn't have to drive or hop on a bus or catch a cab or an Uber. I'm just happy that we are still standing here," Thompson said.
Blue Nile Botanicals currently sits on the 2900 block of Georgia Avenue, walking distance from Howard University, and has been a staple in the community since 1977.
However, in the past two decades, the average property costs in the area surrounding the cherished holistic business have skyrocketed, causing many of the Black and Brown owned businesses and residents to leave the area.
In their absence, an increase of wealthier, white transplants have made the Howard-Shaw area their home. In the early 2000s, the area around Howard was just 3.6 percent white. Today, white residents account for more than a quarter of residents, according to the Census Bureau.
For Thompson, an exodus of Black and Brown residents meant a decline for a large portion of their targeted demographic of customers.
"You gotta think about mom-and-pop stores. They were business owners. Some were probably making good money, but some probably weren't. Probably just enough to keep the doors open and enough for them to eat every day," Thompson said. "But then as the clientele changes, the business will have to change. They have to fall into who's living in the area, who's walking up and down the street."
Around the same time that Blue Nile Botanicals was established, nearly 50 years ago, Howard University began buying unoccupied lots and buildings in the area to expand its campus and develop the Howard University Hospital. Today, Howard owns multiple lots on Georgia Avenue, including the lots that hold the Georgia Avenue McDonalds, Johnnie's Flowers, Halfsmoke and CVS, according to the D.C. Office of Tax and Revenue.
Last fall, Howard University announced the "East Towers Development" project which will be "constructed in partnerships with real-estate companies Lowe, FLGA and Davenport Group," according to an article on The Hilltop. The project will include the construction of "at least 500 new residential spaces along with 246 underground parking spaces and luxury amenities for Howard University students and community members to use.
For Derrek Neic-Willaims, the executive director of architecture and design at Howard, the development plan is "market driven," and "Gentrification is a net trend and it's sad, but Howard is subject to those trends… but that's a part of the conversations that we're having with developers of how their projects interface with the campus – across Georgia Avenue in particular." The Hilltop shared in the same article.
Developers from the D.C. Office of Planning shared that the project would be the center of Duke District, a D.C. approved redevelopment plan of the Howard-Shaw neighborhood.
The new building will not be categorized as student housing, however, Neic-Williams shared that the main purpose of the project is to provide affordable housing in the area.
Similar Howard-affiliated projects have also promised affordable housing for students and faculty members. Due to the limited space available in campus dorms, many students seeking to stay within the Howard-Shaw neighborhood live in Trellis House Apartments.
According to the university, Trellis House Apartments' partnership with Howard was to provide affordable housing to the local community and Howard students and faculty. Despite this initial mission, a majority of Trellis's units are not reserved for Howard students.
On the apartment website, Trellis House describes its residence as "luxury living" with a state-of-the-art gym and a CrossFit retail tenant. According to apartment listings, the average cost of a 2 bedroom unit at Trellis House is more than $3,300.
With 319 total units, 59 units were reserved for Howard University students and faculty. Of the 59, only 9 were marked as "affordable units," reserved for residents who earn up to 60-80% of the area's median income (AMI) ($140,500).
Students living in Trellis and other off campus housing developments have their own ideas on how to mitigate the lack of housing for Howard students while refraining from pushing long term residents out of the Howard-Shaw neighborhood.
"I would do a lot of community based design…just to see where we could put dorms, where, what do the students need?" Kai Dixon, an architecture student living in Trellis House, said. "And just figuring out what will work because there is a solution somewhere, but I just don't think that Howard is looking for it necessarily at the time."
Other students such as Amari Green touched on the consequences of students not being able to find on campus housing. "You see it across the Internet and all the different platforms and people sharing their GoFundMe or like people looking for housing and things like that. So you see it all the time."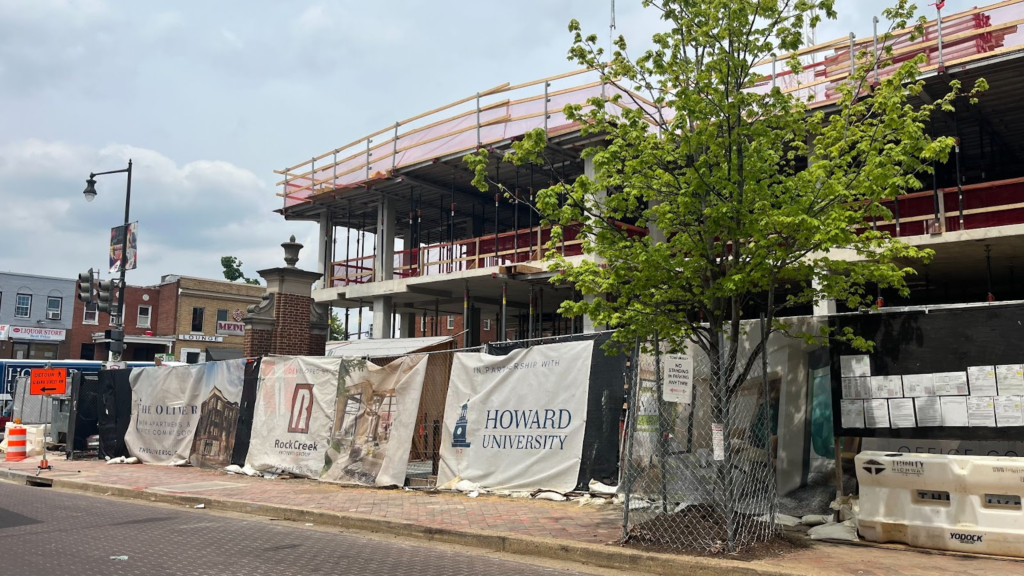 Construction site of The Oliver. Photo courtesy of Badi Cross
In addition to the partnership with Trellis House, Howard has contracts with Rock Creek Property Group to build The Oliver. This $62 million project will offer housing to mostly graduate students and people not affiliated with the university, according to the Washington Post. The Oliver will be across the street from the School of Business, beside Cook Hall.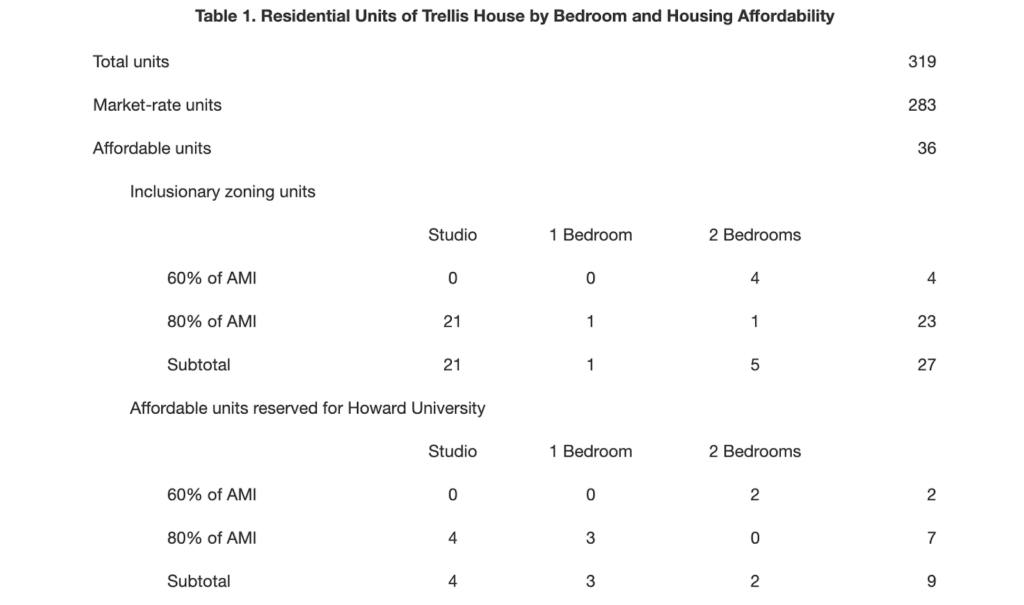 Image of residential makeup for affordable housing at Trellis House. Image courtesy of U.S. Dept. of Housing and Urban Development
Dr. Arvilla Payne-Jackson, professor of anthropology and sociology at Howard University, has been teaching at the university for more than 40 years. Payne-Jackson was initially drawn to the university for its, now eliminated, anthropology department.
During her many decades as a professor at Howard, Payne-Jackson shared the many ways she witnessed the surrounding community change and believes that until the ongoing student need for on-campus housing is addressed, the university will continue to contribute to gentrification.
"As Howard expands it takes out some of the 'eyesores' and the community, and makes it a safer community, though I'm not sure that's true anywhere," Payne-Jackson said. "When you gentrify, you move out the poor folks and you're trying to create what you feel is a better, upgraded and healthier environment for the people at the school. You're not caring for the people that have to be moved. That's the problem with gentrification."