By Beverly Lindsay-Johnson
"If there were no E.B. Henderson, there may not be a Michael Jordan or LeBron James. All these people who have made a living off basketball."
— Howard University Assistant Professor Mark Beckford
Who is E.B. Henderson? Edwin B. Henderson, also known as E.B., was a basketball player, a pioneer, visionary, author and civil rights activist. He is named the "Grandfather of Black Basketball."
Born in 1883 in Washington, D.C., Henderson brought the game of basketball to the African-American community. He learned to play the game from its creator, James Naismith, while attending Harvard University's sports and recreation program in 1904. Henderson envisioned basketball as a way for African-American youth to attend college and eventually find a way to improve their lives. After attending Harvard, he returned to Washington and formed basketball teams, leagues and officiating organizations there and throughout the East Coast. These were African-American leagues, as the early game of basketball was racially segregated.
E.B. Henderson, a Howard University graduate (B.A. 1930), formed a groundbreaking league in Washington called the 12th Streeters that played at the African-American YMCA on 12th Street N.W., in the Shaw neighborhood. The team went on to win the Colored Basketball World Championship in 1910. The 12th Streeters included Charles Drew, who became a famous doctor whose research on blood plasma and discovery of plasma storage methods saved lives.
A year later, Henderson successfully petitioned Howard University to adopt the team. In an interview, Edwin B. Henderson II, the grandson of E.B. Henderson, said, "My grandfather, had the idea that Howard University needed a basketball team, especially since many of the 12th Streeters basketball team were Howard University students. He was able to convince the university to take on the 12th Streeters and they became the first Howard University varsity basketball team."
Cathy Hughes School of Communications Assistant Professor Mark Beckford studies the history of basketball, and several years ago, he began research on E.B. Henderson. Beckford said, "I'm from Jamaica and basketball is widely popular there. It's popular in the Caribbean. It's popular in Europe. It's popular in Africa and in South America. The reason it has that 'cool' factor or swagger is because we can trace it to E.B. Henderson."
When asked about the impact Henderson had on Howard University basketball, Head Coach Kevin Nickelberry said, "Without E.B. Henderson, there wouldn't be Howard basketball or a Coach Nickelberry. His impact has shaped the role that blacks have had and will continue to have in college and even professional sports."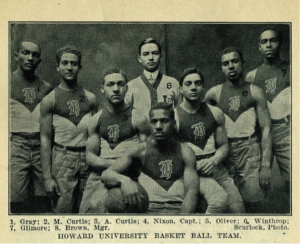 The Tinner Hill Heritage Foundation, whose executive director is Edwin B. Henderson II, along with his wife, Nikki, preserves the legacy of the elder Henderson. In 2010, the foundation held a symposium on him in partnership with the Howard University Athletic Department. Participants included NBA Hall of Famer Earl Lloyd, who was the first black person to play in an NBA game. Says Nikki Henderson, "It was a wonderful event in honor of Howard basketball and E.B. Henderson, who created the first Howard University varsity basketball team, and to have this event at Howard University."
E.B., who died in 1977, is considered the "Grandfather of Black Basketball" because he introduced the game to African-American men, women, boys and girls as a way of empowering them to achieve.
After four years of lobbying by Ed and Nikki Henderson, in 2013, E.B. Henderson was inducted posthumously into the Basketball Hall of Fame in Springfield, Massachusetts.
The Edwin B. Henderson papers and manuscripts are held in the Moorland-Spingarn Research Center at Howard University.
Assistant Professor Beckford would like to see Henderson recognized for his contribution to the Howard University Athletic Department as the university celebrates its 150th anniversary this year. "Howard's basketball team owes a debt of gratitude to Mr. Henderson," he said.