By: Kendall Lanier, student writer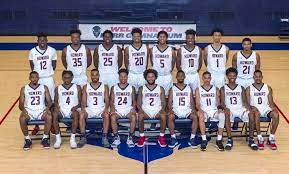 The 2023 MEAC Champions have left an impact on Howard's campus and beyond. The Men's Basketball program led by Coach Kenny Blakeny has brought new hype around the team. The team was able to punch their ticket into the NCAA Basketball Tournament to play Kansas University, the 2022 NCAA National Champions in the first round. They lost 96-68 but gained national recognition. 
This was the team's first NCAA Tournament appearance since 1992. This success did not happen overnight. Coach Blakeny joined the program in 2019 from coaching at Columbia University. Over the past few years, he has recruited high level players such as Freshman and MEAC 2022-2023 Rookie of the Year, Shy Odom.
"I'm a freshman, but I'm really mature. I've learned a lot this year, I learned a lot from the older guys, I learned a lot while I was in high school. I have mentors and older brothers who are in the league and know what it takes to be a really great player. I talk to them all the time and they tell me what it takes and I just put that work in," said Odom after the MEAC Championship win.
Coach Blakeny and his staff were not just building a championship winning team on the court, but also in the community. The team has taken on several community initiatives over the past year. One specifically being their attention to maternal health in the Black community. They were able to collaborate with Uninterrupted for a feature. They also partnered with Black Vibe Tribe to sell a tshirt and raise money for Mamatoto Village, a labor service organization.
Jelani Williams, a graduate student who transferred from the University of Pennsylvania was one of the players leading the service efforts. He participated in a "Black Maternal Health Week" chat with Vaneesa Simmons and Joy Fields of Hip Hop Caucus, a political organization fighting for racial, climate and economic justice. Williams often speaks of his gratitude to be at Howard and make an impact.
"At the end of last season, I was coming off of a semi final loss in the Ivy League tournament, I was down on myself. Coach Blakeny called me after our last game and gave me new life. He told me about his vision for the program but also his vision for me and what I could bring to the team. He really believed in me and that's what you kind of need as a player. I'm forever grateful for him and the university for bringing me in," said Williams.
The team became known for their efforts to uplift and support those who needed it in the area. They were very intentional in giving back to the Black community as they climbed. Coach Blakeney only got the team meals from Black-owned restaurants when they traveled. His desire to help others was something that the rest of the team picked up on and was the foundation of the team.
They were building a brand. Through the image the team portrayed on their social media pages and everyday acts, several players were able to secure several brand deals throughout the season. This included Jelani Williams for White Castle, Elijah Hawkins with Muscle Milk, and more. Players even created their own merch. Steve Settle, a key player for the team has hoodies and t-shirts to purchase on his website.
On Howard's athletics website under each player's bio, there's a link to their Opendorse page where anyone can purchase a shoutout, post, appearance, or autograph from them. The media attention that came from the team's recent success was plentiful and the players, coaches, and school made an effort to capitalize on that.