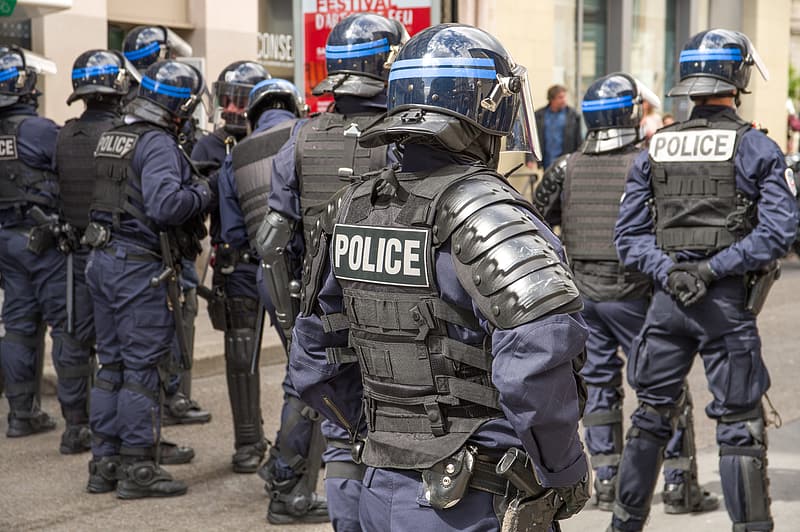 By Ravyn Hardwick
George Floyd, an unarmed Black man, was seen by millions in video footage gasping, "I can't breathe" while a white police officer kneeled on his neck until he died. In death, he joined a growing litany of names: Trayvon Martin, Breonna Taylor, Atatiana Jefferson, Philando Castille, Eric Garner, and Tamir Rice, just a few of the hundreds of Black people killed every year by police officers in the U.S.
According to Mapping Police Violence, 28% of those killed by police in 2020 have been Black. African Americans make up 13% of the population.
This public rise in unwarranted slayings of unarmed Black people raises many questions, including what is going wrong when police officers, who are meant to serve and protect, repeatedly kill innocent persons?
"Police training isn't rigorous enough," said Tanay Davis, a Howard University student. "Lawyers have to study for 4-plus years to analyze the law. On average, it takes about 19 weeks to become a police officer."
Davis is among many calling for a tougher look at the amount and quality of the training required to become a police officer. But is that "19 weeks" statement accurate?
According to the Institute for Criminal Justice Training Reform,  on average, police trainees are required to take 647 hours—or about 16 weeks–of basic training to become an officer, compared with the 4,725 hours it takes to become a lawyer, the 3,500 hours to become a plumber and the 3,000 hours it takes to become a cosmetologist.
The U.S. has the lowest police officer training requirements in the world, the institute says. It reports that 37 states allow new police officers to start work before they attend training.
To become a police officer in Georgia, two basic requirements are that you are at least 18 years old and have a high school diploma. The trainees complete about 408 hours of training, with no field training hours. In comparison, trainees in Alaska complete about 520 hours of training, with 40 field training hours, and those in Hawaii are not required to do any training, including field training.
The comparatively low number of training hours required to become an officer contributes to the feeling that many African Americans have that police officers' first instinct is to draw their guns and shoot. Monique Jefferson, a mother who lost her son to gun violence, feels that "if police officers had more in-depth and hands-on training these issues could be resolved."
Randy Shrewsberry is founder and executive director of the Institute of Criminal Justice Training Reform, a nonprofit organization whose mission is to "research and advocate for improved training in all aspects of the criminal justice system, beginning with law enforcement, in a way which will make a more equitable system that promotes peace and saves lives."
Shrewsberry, a former police officer, said, "We don't know if police training would reduce the shootings of unarmed Black people. We've currently been studying to see if there is a correlation between police training and shootings but are limited with trend data because for years, police training hasn't really changed and the number of Black people killed by the police has stayed the same or increased."
More intensive training, which is found in most countries, would "lend more time to focus on de-escalation and non-lethal tactics," he said. "In the U.S., police are mandated to receive about 650 hours of training, though internationally, police officers receive 2 to 4 years of training. This allows a greater nuanced approach to the roughly 50 topics that are covered in the academy.
"Further, we believe more balance between use-of-force training, which officers spend about one-third of their training preparing, versus about one day of de-escalation training, could yield better outcomes."
Sociologist Kaylah Clark said, "I believe there needs to be a more thorough background check of police officers prior to training. There needs to be a part of training that discuss the racial components of policing and what problematic power dynamics look like and consequences for those actions."
Shrewsberry said training around implicit bias still needs to be measured for its efficacy, and his organization is studying that.
Howard University student Kendall Robinson said police officers "are not equipped to handle homelessness, mental health, etc. We should allocate more money to professionals equipped to handle issues in those areas."
Likewise, the institute encourages a greater emphasis on academia, causes of crimes, criminology, race relations in America, de-escalation and mental health critical response training. Focusing on those things would "certainly fare better than a militarized approach for which officers view the public as enemy combatants, especially young African American men," Shrewsberry said.
Truth be told, increasing the training hours required for law enforcement officers seems like a logical step, but it is not the only answer in reducing police killings of unarmed Black citizens.
"I think we must take the approach that this is two prongs. First, we must be teaching officers to be guardians of the peace instead of soldiers at war (overwhelmingly it is the latter) and second, we must discontinue policies such as quality of life crime enforcement, stop and frisk and the war on drugs, which is still promoted and trained, that increases negative interactions between the public and the police," said Shrewsberry. "To confront these problems, we must reform both and ensure that training supports equitable policies."