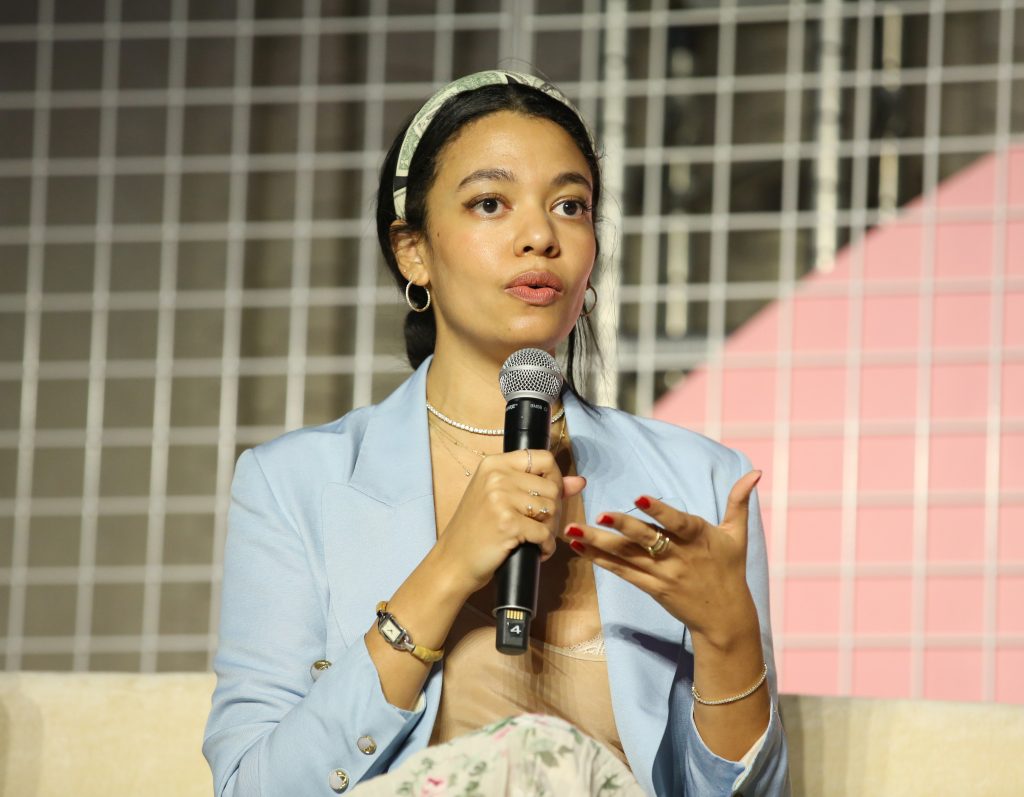 By Tia Lowe
It was just a few days after George Floyd died under a policeman's knee on a Minneapolis street, a killing that would breathe greater life into protests against racial injustice as part of the Black Lives Matter movement, that Aurora James posed her question.
"What if major retailers like Walmart, Sephora, Target and Whole Foods started devoting 15 percent of their shelf space to products from black-owned businesses to align with the population of African-Americans in the United States? It would fuel the growth of the brands and attract new investments that would ultimately extend to black communities," the Brooklyn-based creative director of the Brother Vellies fashion brand queried on Instagram.
Businesses across the nation and of nearly every type were renewing old promises and making new ones. They wanted to assure communities Black, white and otherwise that they were listening, and willing to act. Aurora James asked herself if she believed them.
"The answer was I didn't," she later told The New York Times. "I started thinking—black people do not feel supported. I do not feel supported." That was the beginning of what has become known as The 15 Percent Pledge.
The immediate response was modest. But three days before Thanksgiving, Macy's added its commitment to those of a diverse group that by then included American Vogue, Bloomingdale's, Blue Mercury, Indigo bookstores, InStyle US, MedMen, Rent the Runway, Sephora, West Elm and Yelp. James was not yet a complete believer.
"Now more than ever, we need to demand that retailers and other companies offer more than lip service to Black communities," she said in a statement to The Root. "Committing to the Pledge demonstrates that companies are willing to go beyond one-time donations and commit to a genuine partnership that will support them through this process…Business as usual is no longer enough."
The six months between the announcement of the pledge and Macy's taking it were much like those before. There were high profile killings of seemingly innocent Black folks. Demonstrations heated up, calmed down, then heated up again. And the nation continues to endure a pandemic that has infected millions and killed hundreds of thousands, while going through an unsettling transition of presidential powers.
African Americans and other communities of color have had more than their shares of coronavirus infections and deaths, and Black-owned businesses—already all too often struggling to stay afloat—have been disproportionately hollowed out and shuttered by the economic downturn.
It would be difficult under such circumstances to fairly judge how much progress there has been toward James's objective, but she apparently had pondered that, too, when she set it.
The pledge is a "lofty goal, " she told The Times, but not a goal beyond reach.
Limited exposure and anemic sales are only two of the challenges facing the businesses James said she so badly wants to help. Going into business in the first place can be more difficult because of factors that numerous studies have found place Black entrepreneurs at a disadvantage compared to their white counterparts.
White people have 10 times as much household wealth as black folks, and household wealth can encourage banks to be more likely to make loans. Fewer than half of Black-only households own their homes, compared to three-fourths of white households, and homes are frequently the collateral used to secure business ventures.
In lieu of bank financing, business newcomers can turn to other personal assets for start-up capital. That often means family savings, where Blacks also have less than whites; and to credit cards, which have higher interest rates than most other forms of business financing.
Many Black-owned businesses are small, and their product output is small as well. Even if large retailers like Macy's decide to put those products on the shelves, it is difficult for the small companies to produce in sufficient quantities to stock a meaningful number of outlets for even regional sales.
And over the years, many Black businesses have marketed themselves to appeal to broader audiences, some of whom might shy away from products and services aimed at a niche audience or be turned off by racial targeting. They want what they offer to be chosen because it is the best on the shelf, period.
Macy's, Sephora, Target and similar mass market retailers are located primarily in busy downtown areas and urban and suburban shopping malls, which in recent years have been losing customers to the growth of internet shopping. The pandemic-related stay-at-home orders and the disruption to downtowns by demonstrations and counter protests around social justice issues have accelerated that trend.
That development has helped many newer Black-owned and Black-oriented businesses that have opted for space on virtual shelves instead of shops and departments. There they can display their goods to so many more potential buyers, and can do so without the burden of mandatory rent payments as a negative factor on the bottom line.
James is not the only celebrity to draw more attention to Black-owned businesses, and a glance at website offerings illustrates some of the complexity and nuances of the world in which The Pledge is hoping to grow commerce and investment, and boost benefits to the nation's Black communities.
For instance, Beyoncé, the Grammy award-winning artist, has a portal on her website supporting what she says is a special fund administered by the NAACP and established "to support Black-owned small businesses," offering the likes of products from agriculture to wellness and health.
In addition to businesses in the United States, the site features a pair that are African-owned: Maxhosa, a South African line of designer knitwear; and Tongoro, based in Senegal in West Africa, which says it promotes "African-based manufacturing" as well as its designs, and that its fashions have caught the eyes of model and actress Naomi Campbell, and singer-songwriter Alicia Keys.
There's also Ashley Alexis McFarlane, who bills her signature jewelry line, Omi Woods, as "contemporary heirlooms that celebrate our connection to Africa and her diaspora." McFarlane has promoted her designs on Etsy, a major online retailer that gives special attention to Black-owned businesses of many types, but also includes their items among its general offerings.
Brother Vellies, Aurora James's line of luxury shoes and bags, is in a listing of "100 Black-Owned Businesses to Support" that Forbes magazine published earlier this year, that also includes familiar street-wear attire like hip-hop apparel brand FUBU.
Items in the Brother Vellies collection are meant to appeal to African stylistic inspirations and ongoing environmental concerns about clothing production, are advertised as "never going on sale," but are not likely to be found on shelves in Macy's, Target nor DSW.
They include a pair of mules—backless, medium height heels—selling for $655, and a "Springbok Billfold Bag" with a strap hand-carved from Kenyan hardwood and priced at $1,600.
BOM, the Black-Owned Market, is a one-stop, online store that touts "Black-owned products to fit your everyday lifestyle," including beauty, skin care, and grooming items, as well as house cleaning products, and a special section for "parents and children."
The non-profit website Aurora James set up to monitor the 15 Percent Pledge has assembled its own gift guide for the holidays. While the campaign has attached a specific number to its name, it has none for its end, declaring on Instagram: "We're asking for progress, not perfection."